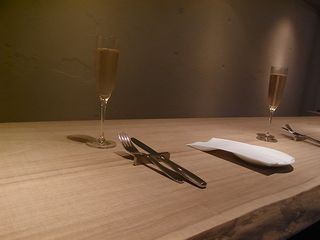 The French restaurant "Quand l'appetit va tout va" is one of those restaurants for which we are not able to book seats so easily in Tokyo at this moment. And we are not able to remember the full name, even though I spoke French language a little
The restaurant name or the sentence can be translated to English "When appetite goes all go"(When you have an appetite, everything is OK.) By knowing the meaning, we become more comfortable and ready to enjoy the meal....
It is located along a street in Azabu Juban (麻布十番), a residential area in central. The majority of seats are along a plain wood long counter. It can be used as a dining bar on late evening with nice selection of glass + bottle wines.
The menu list in Japanese and French are well-thought and very attractive by the chef experienced at some top French restaurants in Japan and in France. It is hard to choose, even though only up to 6-7 dishes for each section; starter, fish, meat and dessert. The restaurant staff are happy to make a plate share between two accompanied guests. Then it will give us a chance to take one to two more plates...
Here is finally what we had,
Starter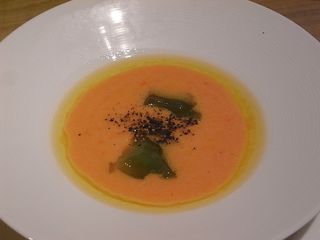 Gazpacho fresh orange and tomato
(with cucumber jelly)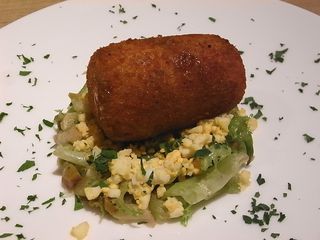 Croquette pork toes with salad
*creamy pork toes (pied de porc) stew inside of the crispy pan-fried coating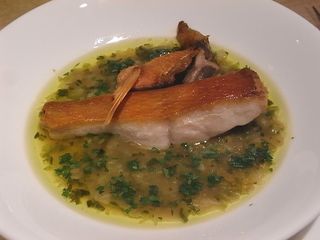 Kinmedai(金目鯛 alfonsino) in cabbage soup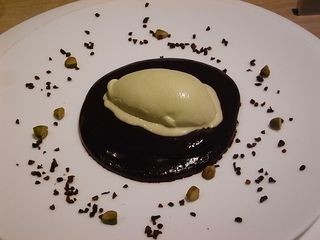 Melting chocolate with pistachio sherbet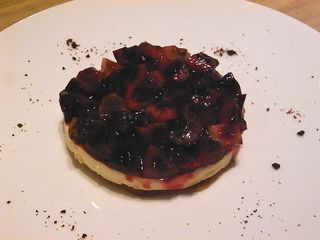 Cherry and cream cheese tarte
Every plates were unforgettable. We surely would like to come back in next season autumn for finding different fantastic dishes. Our appetite never go away here.
Restaurant name: Quand l'appetit va tout va
Address: 2nd floor Visco Building, 2-3-12 Azabu-Juban Minato-ku, Tokyo
Website: http://www5.ocn.ne.jp/~quand/
大きな地図で見る