Mr. Hironobu Tsujiguchi (辻口博啓) is the most well-known pastry chef in Japan. His sweets boutiques in Tokyo, including its flagship store Mont St. Clair, are always filled with clients who look for the best French-style pastry products. After his success in Tokyo, he opened two new style units, called "LE MUSEE DE H", in Ishikawa prefecture where he was from. One of them is accommodated in Ishikawa Prefecture Museum of Art (石川県立美術館) building, based in Kanzawa.
Le Musee de H offers an interesting "modern tea ceremony" program produced by the master chef Mr. Tsujiguchi. On the program "Concept G", "marriage" of Japanese tea and French-style sweets is expressed in a designed modern "tea room" which is attached to the sweets boutique and cafe floor of Le Musee de H. Mr Tsujiguchi coordinated the space and the program as a whole for Concept G, from a course of tea ceremony services to tea cups, interior of the modern tea room. Let's try a new world of Japanese tea and Japanese tea ceremony!
"G" of Concept G represents "Gyokuro" (玉露), the highest quality brand of Japanese greaan tea from Kyoto. During the course, Gyokuro green tea is served 3 times in each different way in addition to seasonal tea upon starting and grilled tea at the end. The chef Mr. Tsujiguchi selected 3 plates of sweets that are the best match with Gyokuro tea.
Welcome plate, ice cream with Japanese sweets specialities such as kinako (きなこ, soy beans sweet powder) and kuromitsu (黒蜜, black syrup etc), served with seasonal "Sakura tea", made from cherry tree leaves.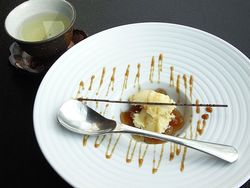 A staff brought to me a pot with a small candle and a plate of green leaves on top as well as a wooden stick. This is for whay?
It is the first surprise...I was asked to have these tea leaves grilled by myself while enjoying cups of Gyokuro green tea. This is the first time for me (and maybe many of Japanese clients come here) to roast tea leaves. It is actually required carefull attention to mix these leaves time by time so they are evenly burned. Sometimes a few leaves were out from the plate and another leaves were burned too much...
During Concept G program, tea is prepared with this traditional-style tea making tools by staff.
The first cup of Gyokuro green tea is served with a small cup like Sake. Surprisingly the taste of the highest quality tea is totally different from what we have usually as green tea. It is rich and includes "umami" (うまみ). The shiny black cup for the best green tea served on a silver plate. This is like art...
The second cup of Gyokuro tea, following the surprise, is not same with the first cup, even though they are from same tea pot and leaves.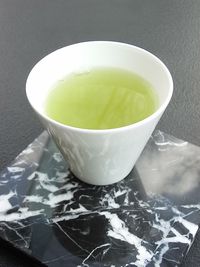 The main dessert plate includes three fantastic sweets. The cake is Gateau Opera "Sakura flavor".
Another surprise was a small plate sesrved...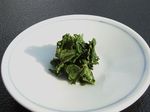 It is tea leaves for the seasonal tea. Normally we just throw away tea leaves after tea is made, while as for the special seasonal sakura tea, it is edible and good with a drop of soy sauce (shoyu)! It was enough good and like boild leafy vegetable.
Finally this is the tea which "I grilled by myself". Of course it is absolutely tasty too.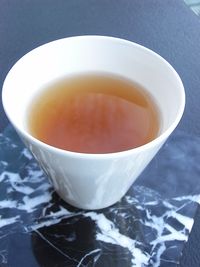 I really enjoyed for apploximately an hour of Concept G world and surely I did discover great combination of Japanese tea and very nice sweets. This is what we cannot have in Tokyo but the concept really well matchs with Kanazawa city's atmosphere. So it is better to travel to Kanazawa even from Tokyo.
Concept G program is takens place every hour from 11h00 to 17h00 at Le Musee de H in Kanazawa. Advance reservation is recommendable to secure a time slot.
After the tea ceremony, let's try to find some cakes and cookies for souvenir.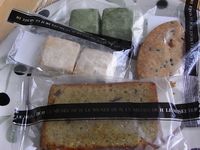 Some products are made with local ingredients. Cake in Kaga Bo-cha (Kaga stick grilled tea), Neige Shoyu (square snow-cookies, soya sauce flavor), Neige Nakajimana (square snow-cookies, local leaf vegetable flavor), Goroshima Kintoki (local sweet potatos) cooky
Concept G, modern tea ceremony program will be followed by a newer post about another unit of Le Musee de H in Wakura Onsen town.
Le Musee de H, Kanazawa (in the building of Ishikawa Prefecture Museum of Art)
*No museum entrance fee required to visit onlyt the sweets shop.
Address: 2-1, Dewa-machi, Kanazawa-city, Ishikawa Prefecture
Website: http://www.kagaya.co.jp/le_musee_de_h/contents/kanazawaConcept.html
*The place is in Kanazawa, Hokuriku region. (not in Tokyo) For general information about Kanazawa and how to get there, please visit below link.
http://aboutfoodinjapan.weblogs.jp/blog/2011/04/about-kanazawa-city-where-food-lovers-should-not-miss-on-travel-in-japan.html
Accommodations close to the sites mentioned on this post
The comments to this entry are closed.
Pinterest