It is another kind of joyful moments to be cheered up with local peole and by a nice cup of Sake in a casual restaurant, while having a good time entertained by Geisha at a luxury Ryotei. Kuroyuri (黒百合) is a recommendable place to enjoy local dishes with local alcohol in very casual atmosphere, surrounded by local people. In addition, it is located in a shopping complex adjucent to JR Kanazawa station hence it is easily accessible even by tourists.
Kuroyuri (黒百合) runs the informal dining for over 50 years in Kanazawa. Inside of the restaurant, the main hall is spacious and panoptic. A long U-shape counter in center is able to accommodate around 40 people. Inside the U-shape counter, several cooking staff work busily cutting ingredients, cooking Yakitori (grilled chicken) or taking out drinks or ingredients from a fridge. You may not be bothered while seeing the staff going around and serving clients from the counter with vigorous voice.
The restaurant's important specialty is Oden (おでん), the most popular Japanese homey food. No exact translation in English for Oden. If you know some French food, it can be expressed as "Japanese pot-au-feu". Various ingredients, such as vegetables, dumplings, egg, shells are cooked for long hours in clear soup. Each restaurant or home has own receip of Oden with each different versions of ingredients to put in a pot. Any kind of ingredients are well soaked with the seasoned soup until begoming soft. At Kuroyuri, it keeps the Oden soup for over 50 years to take over the traditional taste continuously.
For Oden, at Kuroyuri, like some other casual restaurants, guests can select what they would like to have and are charged by piece ordered, within the price range from Yen 100 to around Yen 400 depending on ingredient.
What I ordered are...
Daikon (Japanese raddish) typical Oden-vege,
Kurumafu (車麩, round shape "fu" wheat gluten, one of local specialties in Kanazawa),
Baigai (梅貝, also local specialty sea shell),
Iwashi Tsumire (鰯のつみれ, dumpling of minched sardine).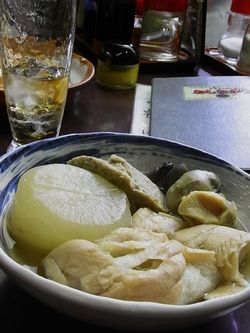 Of course, it offers wide selections of local Sake, Umesh (plum liqueur) as well as beer and Shochu from Kyushu region.
Restaurant name: Kuroyuri (黒百合)
Location: Ajiwai-kan (あじわい館), Kanazawa Hyakubangai (百番街)
*It is located on the restaurant floor at ground level of the biggest shopping complex (Hyakubangai 百番街), adjucent to JR Kanazawa station. Just a few minutes walk from Station gate.
Website: http://kuroyuri.ftw.jp
*The place is in Kanazawa, Hokuriku region. (not in Tokyo) For general information about Kanazawa and how to get there, please visit below link.
http://aboutfoodinjapan.weblogs.jp/blog/2011/04/about-kanazawa-city-where-food-lovers-should-not-miss-on-travel-in-japan.html
Accommodations close to the sites mentioned on this post
The comments to this entry are closed.
Pinterest