During my stay in Kanazawa, I often dropped by Omicho Ichiba (近江町市場) food market in central Kanazawa. The market's history dates back to 280 years ago and it has attracted local residents of Kanazawa and tourists since that time. At Omicho Ichiba, which is called "Kanazawa citizens' kitchen pantry" (金沢市民の台所) in anoother words, around 170 small business organizations are based and they provide a plenty number of food products, from local specialty seafood, local species Kaga vegetables, meat, fruits to green tea, spices and traditional sweets etc. Even though we have no way to cook the raw seafood products during a trip, it is a good opportunity to explorer fresh local foods in the region. In the morning, restaurant operators and professional buyers are main clients of Omicho Ichiba, while local ordinary people fill the market in late afternoon to get ingredients for their dinner at home.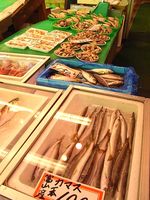 Some seafood shops are able to arrange refrigerated courier service for tourists so they can taste the region's fresh seafood such as crab, shells, shrimps and fish at home on their return. Of course these shop staff are friendly and happy to tell us the best way to cook them.
The most expensive crab in the picture costs at Yen 15000 (applox USD 188 or EUR 125 per crab). The price varies day by day and depends on condisions. A plate says "Jimono" (地物, local products) landing within Ishikawa prefecture (whose capital is Kanazawa).
The market administration was calling for people to contribute to paper cranes making to pray for the earthquake and tsunami victims in Tohoku, when I visited there around three weeks after the natural tragedy.
Well... after looking around such atrractive fresh seafoods, why not try them at a restaurant in Omicho Ichiba? Yes! The market offers the option at some restaurants there. On the ground floor, some small, mainly seafood or sushi, restaurants can be found and on the basement and second floors, more number of restaurants serve various cuisine with fresh ingredients from the market.
I selected one of the restaurants on the ground floor in Omicho Ichiba, which is called "Omicho Shokudo" (近江町食堂, Omicho's dining) and known as a place where the market workers come to have their own meals. It is located at a hiding place, as local people called it "ana" (穴, a hole) then I could find it soon at first...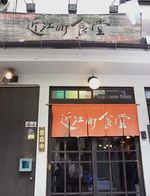 The restaurant exists a few steps back off from the edge of market street.
It offers different variations of Kaisendon (海鮮丼, seafood bowl) as well as lunch set with sashimi etc.
The most typical one is "Ganso Kaisendon" (元祖海鮮丼, the original seafood bowl) for which 8 kinds of sashimi (刺身, raw fish/seafood) are placed on top of rice bowl. Fish/seafood served are changed season by season, my bowl includes symbolic local specialties, uni (ウニ, 雲丹, sea urchin), ikura (イクラ, salmon caviar), ama-ebi (甘エビ," sweety" deep-water shrimp), kani (カニ, 蟹, crab meat). What a dreaming time it is....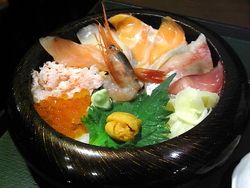 As a side dish, tempura of "Goro Kintoki" (五郎金時) sweet potato was also nice.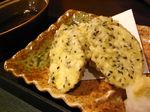 Please do not miss strolling in "the universe of Kanazawa local foods"!
Omicho Ichiba official website (Japanese version only) http://www.ohmicho-ichiba.com
Restaurant name: Omicho Shokudo (近江町食堂)
Website (Japanese version only): http://www.ohmicho.jp
*The place is in Kanazawa, Hokuriku region. (not in Tokyo) For general information about Kanazawa and how to get there, please visit below link.
http://aboutfoodinjapan.weblogs.jp/blog/2011/04/about-kanazawa-city-where-food-lovers-should-not-miss-on-travel-in-japan.html
大きな地図で見る
Accommodations close to the sites mentioned on this post
The comments to this entry are closed.
Pinterest