As mentioned my previous post, one of the most known pastry chef, Mr. Hironobu Tsujiguchi spent his early years in Ishikawa Prefecture (石川県), Hokuriku (北陸) region. In Wakura Onsen (和倉温泉, hot sprin resort) area of Nanao-city (七尾市), Mr. Tsujiguchi has an art museum and café, "LE MUSEE DE H".
Le Musee de H in Wakura Onsen is located seaside, next to Kagaya (加賀屋), one of the most appreciated luxury Ryokan (旅館, Japanese style accommodation) in Japan. In the museum part, on the ground floor, several sugar art works with colors by Mr. Hironobu Tsujiguchi are displayed in a dark exhibition hall. Urushi-nuri (漆塗り, Japan lacquer ware) art works made by another local artist, Isaburo Kado are on the Museum's upper floor.
After fancinated by aesthetic world created by two local great masters, please do not skip a chance of relaxing break time at the café adjacent to the museum.
From the café, through foot-to-celling height window, a beautiful scenery of Nanao West Bay (七尾西湾) and Noto island is visible.
In Tokyo, excellent cakes or gateaux in French by Mr. Tsujiguchi are available but this fantastic combination of the beautiful scene and delicious pastry is not.
Let's take advantage of the fantastic environment and enjoy nice sweets while looking at the sea. What a relaxing time...
These two cakes are exclusively available at this café. No other sweets boutique even by Mr. Tsujiguchi has same kinds. 
From top anti-clockwise
Tiara, Volcan and a piece of Yukitsuri pie (a seasonal product).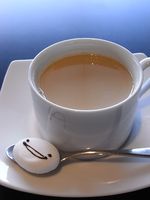 For some products sold at Le Musee de H, some of the region's local ingredients are used; Noto milk, eggs, Kaga bocha (grilled stick tea), rice harvested in Wajima and natural salt. 


How to get to Wakura Onsen
From Kanazawa Station, about 1 hour by Express train to Wakura Onsen train station. Take a local bus or taxi to Wakura Onsen central area from the train station. 
From Wajima, where the morning market is popular, public bus runs a few times a day.
From Noto Airport, where two flights to/from Tokyo are operated, shared taxi service is available with advance reservation.
Offical site of Noto Airport (Japanese only) : http://www.noto-airport.jp
ANA airline: http://www.ana.co.jp
Wakura Onsen tourist office (Japanese only): http://www.wakura.or.jp/
Information in English about Le Musee de H by Ishikawa Prefecture Tourist office
http://hot-ishikawa.jp/f-lang/english/noto-area/muse-detail.html#05
Museum and Café name: Le Musee de H official site (Japanese only)
http://www.kagaya.co.jp/le_musee_de_h/contents/wakuraConcept.html 
*The place is in Hokuriku region. (not in Tokyo) For general information about Kanazawa, to be a base to visit the region, please visit below link.
http://aboutfoodinjapan.weblogs.jp/blog/2011/04/about-kanazawa-city-where-food-lovers-should-not-miss-on-travel-in-japan.html 
Accommodations close to the site mentioned on this post.