Morning market is called, in Japanese, "Asaichi"(朝市, Asa/朝 = morning + Ichi/市 = market).  
In Japan, the biggest three major morning markets are ones in Takayama (高山) in Gifu prefecture (岐阜県), Katsuura (勝浦) in Chiba prefecture (千葉県) and Wajima (輪島) in Ishikawa prefecture (石川県). These local markets continue over hundreds years as a place where we can find fresh local products at reasonable cost, having friendly communication with local food producers.
During my trip to Kanazawa (金沢), Hokuriku (北陸) region, I visited the oldest morning market among those three. Wajima morning market has over "a century" history on the edge of Noto peninsula (能登半島). From Kanazawa, the capital of Ishikawa prefecture as well as of Hokuriku region, I took a long distance coach at 7:20 a.m. from Kanazawa Station bus terminal. The express coach is scheduled to arrive in the final destination, Wajima around 9:35 a.m. While on board, the Coast of Japan Sea along the Noto Peninsula is visible for a while.
Getting off at the bus stop, in front of Wajima Shikki Shiryokan (輪島漆器資料館, "Japan-ware" Resource Center), it takes just a few hundreds meters to the morning market along the Kawaharata river (河原田川). We do not have to check a map, because lively voice of the market vendors led us to the right place.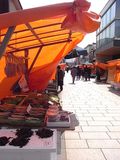 In Wajima morning market, it is said for long time that both sellers and buyers are female here. It is true at least as for sellers now a day. Local ladies of middle to elder age are selling ocean-fresh seafoods including a main product crab (蟹), processed fisheries products such as dried fish or seaplant paste, Wajima's well-known specialty Japan lacquer ware and other local hand-made products. Their energy to appeal their products is enough high to making tourists feeling of purchase some products.  Sometimes they offer sample tasting otherwise prepare fish for sale by cutting or washing .
Some vendors are ready to arrange refrigerated delivery to major cities like Tokyo or Osaka. Some tourists from such major cities purposely organize their itinerary to visit Wajima morning market on the last day of their trip so they can embrase the opportunity to get very fresh seafood at home.
After strolling the main street of Wajima morning market, we had time to discover another local specialty of Wajima, Japan-ware (漆器) or lacquer products. Wajima is the best known as lacquer ware prodiction area. Wajima Shikki Shiryokan (輪島漆器資料館, Japan-ware Resource Center) has an exhibition hall for tourists on the second floor where we will be able to find making process of Japan ware from carving lumber to lacquer finishing and decoration painting as well as completed representative works. Because of a number of handmade process, Japan ware products are fairly expensive. But chop sticks or soup balls are not so high and can be a good souvenir.
Today's my lunch at a casual local restaurant, Matsuoka (まつおか). It is just off from the main street and found on the way from the bus stop. The restaurant's specialty is Kaisendon (海鮮丼, Seafood ball), of course!!, with fresh seafood from the market.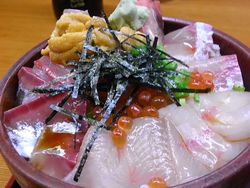 If you have a plenty of time to visit Wajima or are supposed to take a bus to go back to Kanazawa, it is a good idea to go through the Babazaki Shotengai street (馬場崎商店街, Babazaki shopping arcade) on the way to a bus stop for Kanazawa from the main street of Wajima. As you see below photos, traditional merchant buildings stands along the shopping street. They are re-constructed ones but still remain atmosphere of Edo era.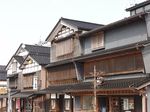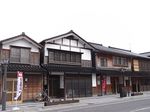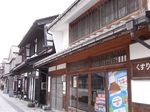 Even a mobile phone shop appears in traditional style...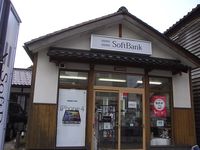 How to get to Wajima (輪島)
From Kanazawa Station – about 2hours by Express coach operated by Hokuriku Bus company. The express bus run several times a day between Kanazawa - Wajima. The first service departs at 7:20 a.m. from Kanazawa station is only one time option fully to enjoy Wajima morning market. The same bus also drops by Noto Airpot on the way a few times a day. You could organize your itinerary to head to Noto Airport by bus for flight to Tokyo on afternoon after visiting Wajima in the morning. Time of these transportation services are limited. It is better to check time table in advance or to consult tourist information.
Offical site of Noto Airport (Japanese only) : http://www.noto-airport.jp
ANA airline: http://www.ana.co.jp
*The place is in Hokuriku region. (not in Tokyo) For general information about Kanazawa, to be a base to visit the region, please visit below link.
 http://aboutfoodinjapan.weblogs.jp/blog/2011/04/about-kanazawa-city-where-food-lovers-should-not-miss-on-travel-in-japan.html 
Information in English about Wajima morning market (輪島朝市) :
http://hot-ishikawa.jp/f-lang/english/noto-area/shopping-detail.html#01
Wajima Shikki Shiryokan (輪島漆器資料館, Japan-ware  Resource Center)
Website (Japanese only): http://www.wajimanuri.or.jp/fkaikan.htm
Address: 24-55 Kawaicho, Wajima-city, Ishikawa prefecture
Restaurant: Matsuoka (まつおか)
Address: 1-31-1 Kawaicho, Wajima-city, Ishikawa prefecture
*The restaurant provides breakfast from 8 a.m. as well as lunch and dinner.
Two other  major morning markets in Japan
Takayama - is a touristic city and a base to visit Shiwakawago (白川郷) UNESCO world heritage. The morning market is taken place in two area within the city. One is on Miyagawa rive side and another is in front of Jinya (陣屋, the former government office) Due to the location surrounded mountains, their local products are mainly from mountain side, such as vegetable, mushrooms, vegetable pickles.   
Katsuura (Chiba prefecture) - It is a port town in East Japan, not very far from Tokyo. Like Wajima, there we can find seafood products as well as vegetables and  rice cakes etc.
Accommodations close to the site mentioned on this post: