From the end of April to the first week of May, it is one of the biggest holiday seasons in Japan, called "Golden Week". Along with four bank holidays, the 29th of April Day of Showa (previously known as Showa Emperor's birthday), the 3rd through to 5th of May Constitution Memorial Day, Green Day, Children's Day consecutively and weekends around, some people take a long holiday week and go out for vacation, outdoor activities or sightseeing. This year it is a bit different especially in Tohoku region where the best season of Sakura, cherry blossoms, falls in the Golden Week of May. Because of the natural disaster damage, less people visited cherry blossom spots in Tohoku, while many people across Japan rushed to the Pacific coast side for volunteer activities at damaged area.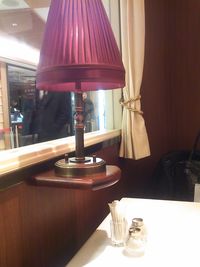 JR Tokyo Station, which is a base for departing to provinces, is still crowded with tourists during this week. Before or After the trip to outside Tokyo, why not take Yoshoku (洋食) lunch or dinner in a nostalgic dining car style restaurant? 
Nippon Shokudo (日本食堂) has been an icon brand of dining car in its florescence 60's to 70's. The good-old-days dining car atmosphere is re-created as a restaurant inside JR Tokyo Station where it has been a base of Japan journey even today.
The food provided at the nostalgic restaurant is also included in the atmosphere. The restaurant's speciality are dishes with "demi-glace sauce" which has been taken over and developed from the original version served for 70 years as a part of Nippon Shokudo's history. It also offers NIPPON SHOKUDO special course which includes French cuisine dishes, as main and dessert, same with ones at popular overnight express trains, "Cassiopeia"(カシオペア号) and "Hokuto-shichisei" (北斗七星号)  both running between Ueno Tokyo and Sapporo, Hokkaido.  Even without moving physically, we could feel as if we were travelling on board for a while at the restaurant.
I had Nippon Shokudo's speciality Hayashi-rice (ハヤシライス),
stew with Japanese sirloin beef well cooked in demi-glace sauce.
It is an excellent Yoshoku (洋食) plate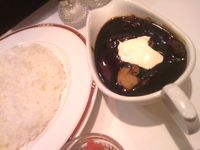 Taking advantage of the location, inside of Tokyo Station, it opens from 7a.m. in the morning and provides special breakfast menu, "Omelette with demi-glace sauce". It must be a good morning break... I will try it some day.
Restaurant name: Nippon Shokudo (日本食堂)
Location: Gransta Dining, North Court, First floor of inside Tokyo station
Restaurant operator's site (in Japanese):