Hiyayakko is maybe the most simple tofu (豆腐, soybean curd) recipe.
On evening after we survived from extremely heated and humid summer day, Japanese local people appreciate hiyayakko (冷奴) as a side dish or snack with chilly beer.
The most simple tofu coooking recepi requires us neither to cook with heat, or microwave nor to cut a mound of ingredients. Great isn't it
 The easiest way of cooking is another reason why the dish is suitable for hot summer day when anyone becomes lazy on evening.
Basically Hiyayakko is a square piece of Tofu as much as you like and some condiment and/or seasoning on top of it. The most simplest seasoning for Hiyayakko is only soy sauce (shoyu, 醤油), in case we do not have any other appropriate ingredients. If  we could get both nice, high quality tofu and soy sauce, they must become a nice dish. Normally we add wasabi or shreded long onion (naga-negi 長ネギ) as well as soy sauce. In my case on the photo, I used Japanese herb Shiso (紫蘇, Japanese basil) instead of long onion. You could try to find your favourite variation of Hiyayakko condiments with ingredients available and familier in your country; Chinese chilli sauce, olive oil, Thailand fish sauce could match with it. What is important to prepare a nice plate of Hiyayakko is to keep tofu very cool until the last minutes before it is served.
By the way, last month, I took part in an interesting event held in Tokyo. Thanks to the coordination by Shokuninshoyu.com, which is a unique online store specialized in high quality handmade shoyu or soy sauce as previously introduced on this blog, at the event we discovered some great combinations of Hiyayakko, with tofu, soy sauce and "katsuobushi" (かつお節, dried bonito).
First of all, maybe I should explain about "katsuobushi" (かつお節, dried bonito) a bit more.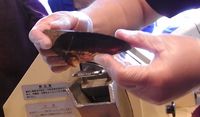 Katsuobushi is a Japanese traditional food made from bonito fish. To make katsuobushi, cut and boiled bonito is roasted then dried with a kind of fungus. It takes for around a half year to make it fermented and completely dried especially for a type of Katsuobushi "Honkarebushi" (truely dried), mostly disributed in East Japan including Tokyo.   
 The dark color piece between two hands is high quality katsuobushi carefully made by the master in traditional manufacturing process. It is too solid to eat as a whole. So it has to be shreded. Normally we can find katsuobushi already shreded and packed at supermarkets.
At the event, the work of katsuobushi shreding was demonstrated. 
The fresh aroma from light pink pieces of katsuobushi smells very good
and it stimulates our appetite

We cannot experience this fine aroma from ready-made katsuobushi at a supermarket
Here we had three types of katsuobushi (Truely dried, Oil rich and Less dried),
three kinds of tofu (fine silken, traditional and very soft not too solidified called "yose")
as well as three differents soy sauce (Usukuchi-light, Koikuchi-thick and Saishikomi-double matured).
*For the types of soy sauce, please visit my previous post from here. 
We tried may many different versions of Hiyayakko with these all high quality ingredients.
As the conclusion of our experiment, the best combination is not only one and must be different by each individual's preference. At least, if all three ingredients (tofu, katsuobushi and soy sauce) have strong flavors, it may be too much and confused. It is better for example, when we have fine quality tofu, to select plain flavor for other ingredients. On the other hand, even if tofu is the least expensive one available at a supermarket, it is convered to a fine Hiyayakko plate with very good flavor of katsuobushi and soy sauce. 
Please enjoy chilly Hiyayakko (冷奴) at Izakaya or other casual Japanese restaurants or even at your home.
Related post:
Shoyu (醤油, soy sauce) - at website Shokunin Shoyu (職人醤油)