It is five months passed after the very sad narutal disaster in Japan. We keep supporting to the damaged region in many ways even under concern about radioactive pollution. One of the easiest way to support for recovering is to buy and have products from the affected region.
Here we would like to list-up excellent local specialties from Tohoku (東北) that we got within the last five months. Some of them are not always available especially out of the region. We just want to tell you that these food are "the tip of the iceberg" and that Tohoku region is a gold mine of fantastic Japanese food such as rice, seafood, meat and fruites.
Seafood lunch box that I got at Hachinohe (八戸) station, Aomori prefecture.
Sea urchin (雲丹, uni) and salmon roe (イクラ, ikura), both from the port of Hachinohe, are on top of rice.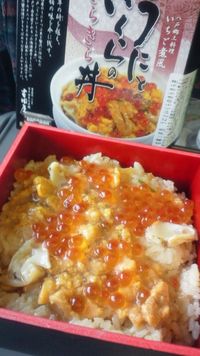 <Noodle>
Yokote Yakisoba (横手焼きそば, Yokote fried noodle) is recognized as one of the greatest local fried noodle of Japan and also as "the king of B-grade gourmet (B級グルメ) ". Fried egg on top of noodle is a unique point of Yokote Yakisoba. Luckly I had it at an event held in Tokyo, while it is normally available only in the origin city, Yokote, Akita prefecture.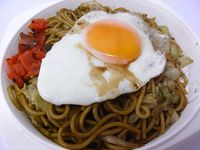 "Amattarenna! Udon"(甘ったれんな!うどん)
The self-making udon noodle set has very unusual name "Don't be spoiled! udon".
Takano Honten(高野本店), the noodle producer based in Iwate prefecture, expressed so from the hot-chilli and sasame sauce in which noodle is to be dipped, partly takig also phonetic equivalent of sweet sauce (amai tare). 
<Sake (Japanese rice wine)>
Tohoku is one of major origin of Japanese alcohol "sake" (日本酒) breweries. 
Asabiraki (あさ開) from Morioka (盛岡), Iwate prefecture with overe a century history of sake brewering is getting high reputations and awards from many expert  or commercial organizations for its fine and high quality Sake. Especially this version "Nama Genshu" (生原酒, raw, non-heated and original liqud only, not blended with water) is limited number production and very delicate. Of course it was very nice with fresh and fruity flavour.
It's a pitty we could not bring the scent to you... 
<Sweet and snack>
Hagino Tsuki (萩の月, "The Moon in Hagi", custurd cake) is one of the most popular specialty sweet in Sendai, Miyagi prefecture. The full-moon shaped cake is named after the beautiful scenery in the city, Japanese bush clover (Hagi) and the full moon in the sky. The cake is less oil and its filling is rich in egg york. That is the reason many Japanese appreciate it!
Nanbu Senbei (南部せんべい) is salty cracker made in Hachinohe (八戸), Aomori prefecture. Unlike typical Japanese cracker, made from rice, Nanbu Senbei's main ingredient is wheat. The most common ones are baked with black sesame seeds or peanuts. 
My interesting finding is a bit different version of Nanbu senbei. It is arranged with butter and as the result, it is more like Western style cookie. But the taste is still plain and healther than cookie.
Tohoku including Fukushima is still and will be Japan's beautiful countrside with deep green woods on mountains, rice paddies and fine local specialities from both mountains and ocean.
In Tokyo, we can get some food products from Tohoku at these stores, for examples.
Fukushima Tokyo Yaesu tourism and exchange house (福島八重洲観光交流会館)
*Five minutes walk from JR Tokyo Station
Address: 2-6-21 Yaesu, Chuo-ku, Tokto
Iwate Ginga Plaza (いわて銀河プラザ)
*Ten minutes walk from Ginza crossing towards Tsukiji direction
Address: 5-15-1 Ginza, Chuo-ku, Tokyo
Miyagi Hometown Plaza (宮城ふるさとプラザ)
A few minutes walk from Ikebukuro station. It has information in English. Download from here.
Address: 1-2-2 Higashi Ikebukuro, Toshima-ku, Tokyo
Aomori Tokusanhin Center (青森特産品センター)
Five minutes walk from Hacchobori or 15 minutes walk from Ginza
Address: 1-3-9 Shintomi, Chuo-ku, Tokyo