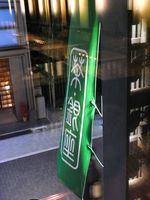 Uogashi-Meicha (うおがし銘茶) is a traditional tea leaf shop in Tsukiji outer market. The shop is always busy with local people who seek for fine quality Japanese tea leaf come across the country.
Taste of Japanese high quality tea is also upto ways to make it from the leaf.  With what kind of pot? How much to put tea leaf in the pot? How long to brew it in the pot...?  Actually there are many points to be noted in order to make the drink at the best.
Uogashi-Meicha offers an opportunity to try fine quality Japanese tea prepared by their skillful tea specialists at the unit "Cha Ginza" (茶 銀座), in central Ginza.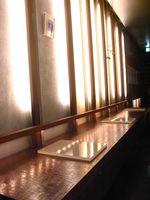 In the three-floor-height modern house, with small amount of entrance fee (Yen 500 per person), Uogashi-Meicha provides a special tea tasting opportunity in Japanese-modern space on the second floor.
Two different kinds of Japanese tea are prepared by their staff who knows how to make them at the best condition. Japanese traditional sweets, which is also the best match with the tea provided, is served in the middle of the tea tasting. Both tea and sweets are ones fit for the season, carefully selected by the shop staff.    
Take a rest and taste the best quality Japanese traditional tea during shopping in Ginza.
On the ground floor, Uogashi-Meicha's fine tea selections are available for souvenir, while on the third floor, it offers matcha green tea tasting as well.
Shop name: Uogashi-Meicha Cha Ginza
Address: 5-5-6 Ginza, Chuo-ku, Tokyo
Website (in Japanese): http://www.uogashi-meicha.co.jp/shop_01.html