You may be able to find SUBWAY sandwich restaurant in your country too.
But, does the restaurant have a "vegetable plant" on site? 
Yes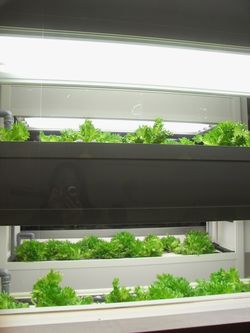 SUBWAY sandwich restaurant in Marunouchi Building Tokyo does grow green leaf vegetable in a plant located on the center of the firtst food chain restaurant. Tables and chairs are placed around the glass-wall plant case. The harvested leaf of lettuce is, of course like at normal SUBWAY unit, served there for your sandwich.
Like this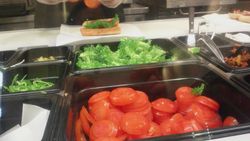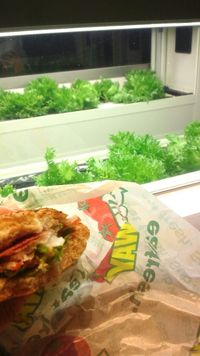 Enjoy your sandwich with very very fresh vegetable, while making sure where it is from on your own eyes
Marunouchi is a business district in very central Tokyo. The area is facing to JR Tokyo station, one of the largest terminal of Tokyo as well as holds headquater offices of major national banks and government ministries. It is also a place whose land price is one of the heighest in Japan.
So how much the value of lettuce leaf harvested in Marunouchi???  It must be more tasty if you eat it, while thinking of that
Restaurant name: SUBWAY Marunouchi Yasai Lobo
Address: B1 floor Marunouchi Building, 2-4-1 Marunouchi, Chiyoda-ku, Tokyo