It is one week ahead to the first memorial day of the Great East Japan Earthquake occurred on 11th March 2011. This week an eBook related to cooking of Tohoku region, where it got the most serious damage by the natural disaster, has been published in English.
The book, called "KIBO (希望)-Brimming with hope", features recipes and stories collected from Tohoku region by the author American lady Mrs. Elizabeth Andoh who has lived in Japan for decades and hold cooking classes in English as a Japanese culinary authority. 
On the short-time project publishing the over-200 page ebook by the first memorial date, while her two previous publishing work "Kansha" and "Washoku" taken for 5 years, Mrs. Andoh selected and presented recipes of Tohoku local cuisine with great support of her team volunteers. The recipe book aims at preserving food culture of Tohoku region through replicating their cuisine in other parts of Japan and the world. Upon picking up recipes for the book from tens of Tohoku's local cuisine menu, she put the priority on whether it can be cooked with ingredients widely available across the globe, while introducing some the region's local products such as Sendai Miso or chrysanthemums edible flower. So get a copy online and try Tohoku region's specialty at your home.
Almost a month prior to the publishing date, Mrs. Andoh hold a party at her Tokyo Kitchen studio to introduce the book concept. Luckily I had been a part of it and tasted some food appeared on the ebook with nice cups of sake also from Tohoku region. Some of them are new or unfamiliar even for us, Japanese but from other region.
Here are some photos we took at the party.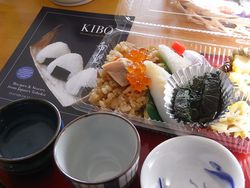 She prepared a small box lunch with
Harako Meshi (Salmon rice topped with red caviar
Sasa kamaboko(Fish sausage patties)
Shiso Maki (Walnut-miso stuffed shiso leaves)
Shira ae Kaki utsuwa (Persimmons stuffed with fall fruits in pine nuts, tofu sauce)
Kiku-bana to enokidake no nihaizu (Chrysanthemum and Enoki mushroom salad).
Recipe for all these menu can be found on the ebook.
Cups beside the box meal are for sake tasting.
Also she showed us Sendai miso used for the meal as well as bottles of sake from Tohoku. The region is one of the biggest producing area of sake and has gotten fame for the highest quality of rice wine.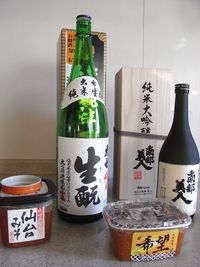 Also it is worth to mention about sparkling sake we tasted there, SUZUNE that won the best gold award on the sparkling sake category by Japan Sake Brewery Association.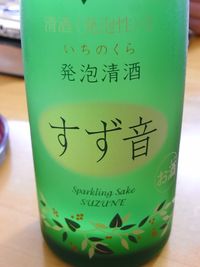 By the way, why the food on the cover page is onigiri, rice balls with dried seaweed?
Mrs. Andoh expressed it as "pressed rice sandwiches" on the book. Rice ball is often provided for lunch box or a quick bite. Every Japanese is familiar with the food since his/her childhood. As described in the book, onigiri, the Japanese traditional finger food is easy to cook, pack and bring. So onigiri (rice balls) have been the first food that the earthquake and tsunami survivors got at evacuation sites after the shocking event. Then it represents Kibo "Brimming with hope", I guess.
The e-book costs only USD3.99 and still a portion of it will be donated to Japan's recoevery efforts.     
Related links
Taste of Culture cooking class by the ebook's author Mrs. Elizabeth Andoh
About Kibo "Brimming with hope" and related events
http://www.kanshacooking.com/kibo-book-tour-events.php
To purchase Kibo "Brimming with hope" on e-book stores
http://www.randomhouse.com/book/219228/kibo-brimming-with-hope-by-elizabeth-andoh