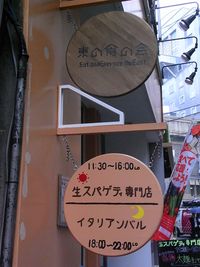 Last December, the Italian restaurant Fujimizaka opened in an academic area between Jimbocho and Ochanomizu stations in central Tokyo. At a grance, it looks just one of many casual Western food restaurants being popular among Japanese young locals.
The round wooden plate hung on the entrance shows the restaurant's link with the organization "Eat, and Energize the East" (Higashi no shoku no kai / 東の食の会 in Japanese). Under the initiative by several key players in the food related industries, the  organization was founded last year in order to promote and support food producing business in East Japan where producers got the most serious damage by the Great Earthquake, tsunami and radioactive pollution followed.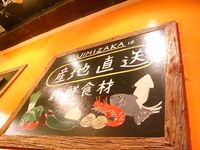 Fujimizaka, the Italian restaurant opens for both lunch and dinner time, providing Italian dishes with some ingredients harvested in East Japan, such as fresh vegetable and chicken from Fukushima and fish, seafood from Iwate prefectures. They are purchased from suppliers referred by the supporting organization "Eat, and Energize the East".
In lunch time, it offers wide selections of pasta at unique price system for different sizes. It means ... you can choose size of pasta plate from the smallest S (150-gram) to the largest LL (350-gram) and when you select the smaller size, you will get one or two side dishe(s) or drink to make up for less volume of noodle, while you order the largest plate no any food or drink included at free of charge. It's simple isn't it? And the large volume plate at reasonable price must satisfy the big appetite of young students in the area.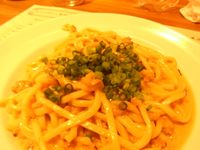 Its pasta plates are cooked from fresh noodle,
which is thicker than spaghetti and soft like "udon" Japanese traditional noodle.
My order was "Tori miso soboro" (鶏味噌そぼろ,
minched chicken and miso cream sauce).
Miso paste is well matched with fresh cream and thick noodle. 
In addition to typical Italian pasta menu such as peperoncino, Bologna meat sauce, shrimp in tomato sauce, the restaurant offers Italian noodle with Japanese flavours like "Mentaiko" (spicy cod roe), tuna and daikon radish, nameko mushroom and Japanese wild vegetable, natto (fermented soy beans) and meat suace. 
For dinner time, Fujimizaka sets up again unique price for wine mainly from Italy and South America. With the price of less than Yen 2000 per person, wine is served in all you can drink style. But please also do not forget beer list. It offers the local beer of East Japan exclusively. No Kirin, no Asahi here. Regardless you choose wine or Japanese local beer, it must go well with its Italian food offered, raw ham, beef carpaccio, potato basil sauce, pizza Margherita, grilled chicken and some arranged in Japanese style. 
 "Eat, and Energize the East" puts the importance on food safety issues, of course, that have to be overcome in order to promote products from East Japan. The association has invited a former IAEA team memeber or the specialist of radiation safety as advisor. With the cooperation of affiliate member companies, the group also has studied check-up system for radioactive level on food to be distributed.  
"Eat, and Energize the East" 東の食の会
Official site (in Japanese): https://www.higashi-no-shoku-no-kai.jp/
Restaurant name: Fujimizaka
Address: 3-20-4 Kanda Ogawa-machi, Chiyoda-ku, Tokyo
Official facebook page (in Japanese): http://ja-jp.facebook.com/FUJIMIZAKA