Sushi, Sukiyaki, Kaiseki...these are surely Japanese food and also they are more for special occasions such as celebration, gathering party etc.
What kind of dishes Japanese people have in their home?
You can find a part of the answer at a casual Japanese chain restaurant Ootoya (大戸屋).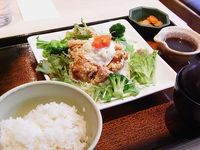 Ootoya started its history from a small Japanese restaurant focusing on "Teishoku" (定食, set meal) in Ikebukuro Tokyo in 1950's. The restaurant chain aims to provides "heartful homemade dishes", like what Japanese local people have at home everyday, which can never tire diners. So they may be different from what you know as Japanese food, Sushi, Kaiseki, Shabu-shabu etc. The plates at Ootoya are instead similar to meals hand-made by mothers at home.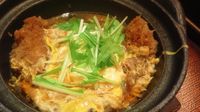 Set meal at Ootoya normally include rice, miso soup and a small side dish, in addition to a main dish. The style is very likely at daily dinner at home. What is good for Ootoya, unlike real home dinner, you can choose your main dishes from its wide selections
(sorry for our mum...); as its grand menu from hamburg steak, grilled chicken, fried chicken, pork sour souce, Japanese cutlet, grilled dry fish, tuna with rice bowl to seasonal ones. These main dishes can be rather close to Western style meal than typical Japanese ones well known outside of Japan. The set menu price is around Yen 1000.
The casual Japanese restaurant chains, Ootoya, runs over 200 units across Japan and almost 50 in other countries such as Thailand, Taiwan, Indonesia or Hong Kong. On April 2012, it opened a new unit in New York.
Let's try real Japanese homemade style meal at Ootoya.
Restaurant name: Ootoya
Official homepage: http://www.ootoya.com
Units in major area of Tokyo
*Shinjuku East Exit Chuo-street
Address: 3-34-11 Shinjuku, Shinjuku-ku, Tokyo
*Shibuya Bunkamura street
Address: B1 floor, 2-25-12 Dogenzaka, Shibuya, Shibuya-ku, Tokyo
*Marunouchi Shin-Tokyo building (between JR Tokyo and Yurakucho stations)
Address: B1 floor, Shin-Tokyo building, 3-3-1 Marunouchi, Chuo-ku, Tokyo
*Roppongi
Address: 7-14-7 Roppongi, Minato-ku, Tokyo
*Akasaka Mitsuke
Address: 2nd floor, 3-9-3 Akasaka, Minato-ku, Tokyo
Unit in New York
Address: 8 West 18th Street, New York, New York 10011
****************** Find accommodation in Japan ***************
OSAKA / NARA / SAPPORO / TAKAYAMA / TOKYO/YUFUIN
YAKUSHIMA / NOZAWA ONSEN / NISEKO / NIKKO /

HIROSHIMA / MATSUMOTO / KYOTO / KANAZAWA / ISHIGAKI ISLAND /