If your trip to Japan is the second time or more, you might think of trying something different from normal Japanese dishes. Otherwise on your firt trip to Japan, you could dream that you enjoy a real Sushi restaurant in Japan but you wonder because of language and cultural barrier. For those people, we recommend Makoto Sushi(まこと寿し) in Shinjuku (新宿).
The cosy small Sushi restaurant is located just behind Shinjuku Police Station and Shinjuku i-Land tower amid skyscrapers of central Shinjuku. With the wooden counter and sliced fresh seafood placed neatly on it, inside it looks a typical Sushi restaurant that you have imagined.
What makes Makoto Sushi different from other Sushi restaurants is their unique products called "Deco Sushi". "Deco" is abbreviation of "decoration" or "decorative" in English. It means the restaurant's featuring sushi pieces are "decorated" in unusual ways.
Here are some examples,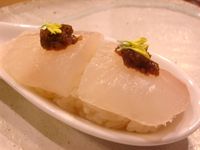 Hirame (Japanese flounder)
with cooked Shitake mushroom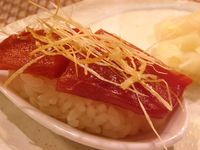 Tuna, fried Japanese leek on top of it
flavoured in truffle oil
 Can't imagine truffle flavoured sushi,
but it was matched well with tuna actually.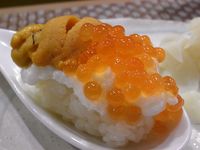 Uni & Ikura (sea urchin & salmon roe)
with merengue 
Combination of sea urchin and salmon roe, two biggest seafood delicacies, itself is like a dream team. Then, plus egg white merengue and also subtle tender flavour of Yuzu-kosho (Kyushu origin spicy paste made with Yuzu citrus and pepper),
it is fantasy on a spoon 
 They are just a part of Deco Sushi. More interesting decoration sushi are offered by Makoto Sushi, with beef, smoke salmon and Shiokara (塩辛, salted fish guts) as main ingredients as well as anchovy, cream cheese or chili sauce to add taste for example. 
In addition, don't miss the interesting dessert,
"tempura" of ice cream
Another qualification of Makoto Sushi, for non-Japanese speaker, the sushi restaurant has two English speaking staff including one Sushi chef, thanks to the restaurant's operator, nearby professional Sushi cooking school which has raised and sent many Sushi chef to the world. So do not hesitate to jump in the world of real Japanese Sushi restaurant and to try both traditional and innovative sushi in central Shinjuku. 
Deco Sushi at Makoto Sushi is not only one-of-a-kind experience for those already familier with normal sushi plates, but also a good opportunity of the first trial for those who are not yet familier with raw fish. 
Restaurant name: Makoto Sushi
Address: I-Land Annex 103, 6-2-3 NIshi-Shinjuku, Shinjuku-ku, Tokyo
Official website: http://www.sushimakoto.jp