You may know Japanese varaiery store "MUJI". The shops offers huge range of selections from funiture, stationary, fashion items to grocary foods etc, almost everything you need for your daily life. We believe that the store concept "simple" attract people across borders and regardless culture, language or gender. That is same in Japan, the origin country. MUJI might be a part of life for many people.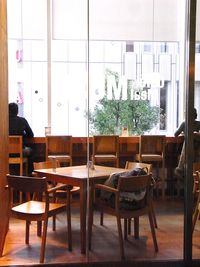 In addition to the retail outlets, in Japan, MUJI runs cafe in some places and a few of them are located in central Tokyo, such as Shinjuku, Aoyama or Yurakucho.
Cafe MUJI, which we introduce here, is in Hibiya or close to the Imperial Palace. The cafe is not attached to the brand's retail store but is accommodated in a hotel called "remm Hibiya". We can say it is on a prime location location surrounded by the Imperial Hotel, Hibiya Park and JR Yurakucho station. But the cafe on the secound floor is quite peaceful with wooden chairs and tables, and sunlight from large windows.
Well about the food offered at Cafe MUJI.
 As same with MUJI products, food & drink at Cafe MUJI are never be gorgeous but are sought for the quality and rustic. For example, on the website, it introduces ingredients carefully selected by them and how they are good in term of quality and nutrition; rice of rich-mineral, 100% cane sugar, preservative-free lemons etc. 
The cafe offers the food in delicatessen style. You can select main and side dishes from the counter showcase. Many include more than a few kinds of fresh seasonal vegetables and they are appetizing colorful
 It is really hard to select just a few plates for a meal.
The lunch set includes "rice with 10 grains" (十穀米) that helps you with taking mineral, fiber and vitamin. You cannot be unhealthy at this cafe.
After meal or during tea time, it provides interesting selections of soft drinks from fair trade coffee, Rainforest Alliance Certified orange juice, to fresh ginger ale.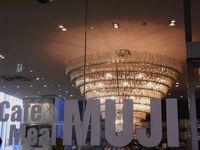 It looks gorgeous with a chandelier
No no, can you recognize that it is made with simple glass bottles
Cafe name: Cafe MUJI
Address: 2nd floor, 1-2-1 Yurakucho, Chiyoda-ku, Tokyo
Official site (Japanese): http://www.muji.net/shop/cafemeal.html