What kind of food do you image for "vegetable dishes"? something for vegans? 
Marche de VinShu could change your impression on "vegetable dishes". The unique restaurant features vegetable cuisines that are not only for vegetarians but for everyone. It means the restaurant offers various dishes for which vegetables are used as main ingredients and which give pleasure to non-vegetarian diners. Their ingredients are not necessarily vegetable only. For most dishes, it places stress on good taste of vegetables.
One of the most significant examples is "daikon steak with miso paste" (大根の味噌焼きステーキ). Daikon is Japanese radish which is often used for Japanese traditional home cuisines like Oden. When it is cooked with low heat for long time, daikon appears with sweetness and very soft texture. Grill with miso paste could be the best way to enjoy the radish.
Sweet, tender and browned edge gives savory flavour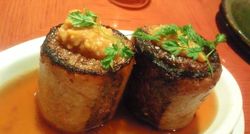 Usually we don't take such big portion of daikon at a time.
But this way of cooking makes us enjoy the dish and finish it.
Surely it can be a main dish as alternative to meat or fish.
For non-Japanese people, Marche de VinShu also gives a chance to try Japanese unique vegetable speices; daikon (大根) as above, yamaimo (山芋, yam potato), okura (オクラ, gombo), kyo-yasai (京野菜, vegetables from Kyoto).
At the same time, the restaurant provides plates that must be familiar for you. That might be another reason to visit the restaurant when you would like to take a break between times to discover Japanese cuisine.
For example...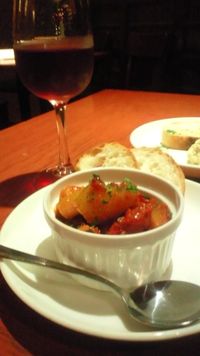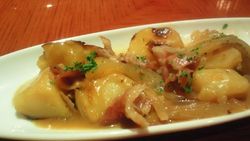 Ratatouille and German potato,
both are good match with wine and other alcohol drinks.
The German potato is the restaurant's own style.
Well cooked potato brings sweet flavor. 
Some of French speaker may notice the name includes "vin" (=wine in French language). Wine is the restaurant's second feature after vegetable dishes. In same way with food menu, Marche de VinShu put worldwide selections for wine from France, Italy to South Americas. Particularly we suggest that you try Japanese wine from different regions. The restaurant has selected good quality of Japanese wine based on their visit of wineries and tasting by own. 
Marche de VinShu is located in Nishimbashi (Nihonbashi, 日本橋) and is very close to Mitsukoshi Department flagship store and Mandarin Oriental Hotel. It also less than 10 minutes drive from JR Tokyo station.
Restaurant name: Mache de VinShu
Address: B1 (underground) floor, 3-4-4 Nihonbashimuromachi, Chuo-ku, Tokyo
Official site (Japanese) : http://sake-dining.com/marche