Newest shopping complex in Shibuya, "Hikarie" opened in April, has caught local's attention so much that it had to ask visitors to wait and make a queue to go in the building during Golden Week holiday season on May this year, just after it opened. Some of shops and restaurants in Hikarie are new to Tokyoiets and they attract a lot of locals who love to try new things.
Restaurant are on two floors, 6th and 7th. They are well appointed as a whole with the relaxing and modern concept as well as varieties of interesting dining choices from Kaiten-Sushi to Hawaiian tables. They are often full with guests and busy even on weekday lunch.
What we recommend in Hikarie, Shibuya is on the 8th floor. The space including art gallery, museum, shop and studios is uniquelly produced under "creation" concept. "d47 shokudo" (d47 食堂, dining) is a part of the space.
The number 47 of the cosy cafe's name represents the total number of all prefectures in Japan, from Tokyo, Hokkaido in the northest, Osaka to Okinawa in south. d47 shokudo offers local specialities from each of 47 prefectures.
For example for lunch, it has several teishoku (定食, Japanese style set meal at reasonable price) style courses and each of courses is tied with a certain prefecture;
No.001 Hokkaido - dried Hokke fish from Kushiro and salmon rolled by kobu kelp
No.020 Shizuoka - fried chicken of Fuji-Asahi local branded and black fish cake
No. 046 Kagoshima - Pork ginger sautee and simmered potato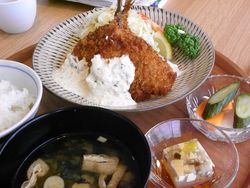 and the photo right is
No. 043 Nagasaki - deep fried horse mackerel wih tartar sauce and jelly of shrimp and vegetables
As it is very likely to be traditional "teishoku" (定食) style, these main dishes are served with a bowl of rice, miso soup and pickles. That is very close to Japanese locals' "ordinary" meal even not so gorgeous like sushi or sukiyaki.
The cafe also offers very interesting drink tasting set; 3 kinds of either Sake, shochu (distilled sake), made-in-Japan red / white wine, orange juice or grape juice
Actually in some parts of Japan, very good citrus concentrated juice is produced. If you would, you can try 3 different branded juices each from different prefectures.
My case, I ordered a single kind of orange juice from Ehime prefecture, one of the best-known origin of "mikan" Japanese orange. It is really fresh and rich in taste.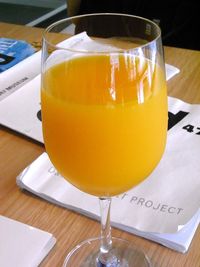 It is worth to try even though it costs more by a few hundreds yen
than a cup of coffee (the coffee is also special local product though).
Another point to be noted about d47 shokudo is its view of Shibuya town. Through the large window on the 8th floor, a town of Shibuya with hundreds of ad-signs, random sized and shaped buildings, cars on a highway, people on streets .. all are visible and will surely make you feel being in Japan.
Lastly some of ingredients and drinks provided at the cafe are able to be purchased at the cafe and d47 design travel store on the same floor.
Restaurant name: d47 shokudo
Address: 2-21-1 Shibuya, Shibuya-ku, Tokyo
Official website: http://www.hikarie8.com/d47shokudo/
****************** Find accommodation in Japan ***************
OSAKA / NARA / SAPPORO / TAKAYAMA / TOKYO/YUFUIN
YAKUSHIMA / NOZAWA ONSEN / NISEKO / NIKKO /

HIROSHIMA / MATSUMOTO / KYOTO / KANAZAWA / ISHIGAKI ISLAND /