The months of May and June are good time to enjoy outside terrace in Tokyo, when the weather is fine. Today's recommendable spot is a bit unique open air terrace where you can enjoy food & drink you bring.
Kamiyacho Open Terrace is 30 seconds walk from subway Kamiyacho (神谷町) station on Hibiya-line in central business district of Tokyo. It is actually a part of a temple, Komyoji (光明寺), building. 
The temple's master (surely open-minded) started sharing the terrace space with public in 2005, aiming at making it as a public space like a park and at inviting people living and working in the area freely to the temple. The temple offers the terrace space in front of the main hall with several tables and chairs and it welcomes you bringing your lunch pack, working with a note PC or reading a book.  As long as you do not mind viewing the temple's cemetery below your eyes, feel the silence and breeze going through greenery scene. Sometimes during weekdays, a monk serves tea and sweets to visitors. He is also happy to answer to vistors' question when his time is allowed.
The temple's main hall is also on a side of the terrace.
Don't forget to pray and to say hello & thank to the buddha
Kamiyacho is about 15 minutes walk to Tokyo Tower
From the temple terrace the upper part of the tower is visble.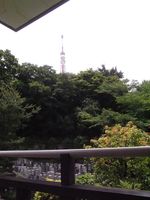 Several tables and chairs are set to enjoy the space. 
Business lunch hour 12:00 - 13:00,
these chairs and tables might be filled by local business people enjoying their lunch.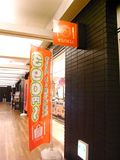 If you would like to get local style lunch on the way to Kamiyacho Open Terrace by Komyoji Temple, we recommend you drop by "Yatai Deli" (屋台Deli, "food stall" Deli). The take-away lunch box seller is located on the underground floor (B1) of Toranomon MT40 building, directly connected to Exit 3, Kamiyacho subway station. Varieties of Japanese style box meal are placed on small stalls and all are covered by clear plastic top with a price tag. Lunch boxes are sold at reasonable price starting from Yen390 and none exceeds Yen 1000. (as long as we know...) So even for non-Japanese speaker, it will be easy and comfortable to try and to choose one for you. 
Don't worry even if Japanese lunch box is not your feeling. Two convenience stores are available at the crossing corners of Kamiyacho subway station. 
And wherever you get food, your cooperation is much appreciated to bring back waste and not to leave it in the temple. 
Komyoji Temple provides information about Kamiyacho Open Terrace in English. For more and the latest infromation, please visit its official blog.
Komyoji Temple  Kamiyacho Open Terrace
Official site: http://www.komyo.net/kot/english/
View 神谷町光明寺 in a larger map
Map for Yatai Deli at Toranomon 40MT building
Alternative spot in similar location:  Belgian bakery cafe - Le Pain Quotidien
 http://aboutfoodinjapan.weblogs.jp/blog/2011/06/belgian-bakery-cafe-le-pain-quotidien.html