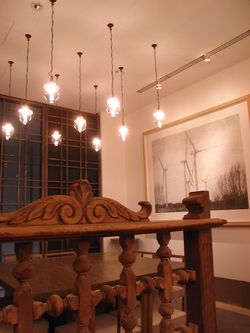 At Ginza, the best known luxury shopping district in Japan, it is not easy even for locals to find a cozy place for tea break during exciting shopping hours.
Higashiya, locating on the north part or 1-chome of Ginza, is one of such options, very sophisticated oasis. The "Japanese Tea Salon", as it calls itself, is on the second floor of POLA Ginza building, a property by the established Japanese cosmetic company.
Like the cosmetic brand on the ground floor, the space of Higashiya tea salon looks both peaceful and beautiful with arts placed on the wall, modern lighting and warm wooden tables and chairs. It is also quiet and people enjoy their own "tea ceremony" without any kind of noisy disturbance.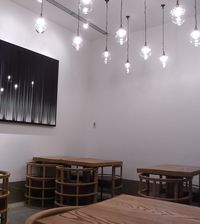 It offers fantastic selection of Japanese tea in term of the number of options and quality of listed products as well as Japanese traditional sweets. Otherwise choose the tea set at just over Yen 1000. Then you will have small pieces of seasonal Japanese sweets and again seasonal recommendable tea.
Don't forget bringing a book or someting to read instead of your moile phone to talk with someone. That is what is the best way to spend time and fully to enjoy at Higashiya, Japanese Tea Salon, we believe.
Lastly, we also recommend that you "pay a visit to the toilet" without fail.
It is the best and the most comfortable toilet that I have ever seen in Japan and in the world. I visited ladies' room only of course. Sorry for gentlemen, as we do not know how it is for you. 
We would not tell you how it is great so you can enjoy finding it.
Cafe name: Higashiya Ginza
Address: 2nd floor POLA Ginza, 1-7-7 Ginza, Chuo-ku, Tokyo
Website: http://www.higashiya.com