Today's restaurant might not be what you expect to visit on your trip in Japan but we believe that at least you are interested in what Japanese people, especially ladies, like to have for lunch. 
Here is one of the answers. Gaston & Gasper in Roppongi is mostly filled with ladies for lunch time and they could make a waiting queue line in front of the restaurant some times.
The reason why ladies love Gaston & Gasper is its unique "Pasta Creation System." Guests are allowed to select and organize their pasta dish based on chocices for ...
 1. home-made fresh pasta: from standard "spaghetti" to a short pasta called "campanella." Don't worry even if you are not familiar with names of pasta. The restaurant will show you samples of pasta available on a big plate.
2. sauce: again several from Italian classic tomato, basil to Japanese style and "mentaiko" (hot cod roe)
3.  main ingredient: meat chicken, minched meat or fish, seafood 
4. two vegetable ingredients: tens of vegetable offered!! not only typical choices such as onion, spinach, eggplant, zuccini, paprika, mushroom also a few Japanese ones, okra, yam, daikon Japanese darish...
Your potential pasta menu varies over 100 different choices. It's too hard to decide or absolutely is a joy
  That is the first exciting moment at Gaston & Gasper.
Depending on your feeling, select your own special favorite pasta menu for the day. 
When you finally make a decision for your pasta dish, give the order to staff. In case your selection is not enough good to try, the staff will suggest alternative ingredient to make your plate better. 
Here we show you two examples we ordered one day for lunch.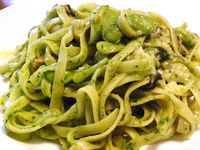 Tagliatelle + Genova sauce + oyster + broad beans + avocado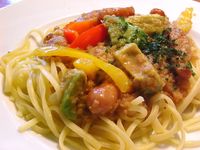 Super
garlic + Linguine + sausage + paprika + avocado
The second exciting moment at Gaston & Gasper is to know how much I made a good choice for my plate by myself.  Even if we are satisfied with the own choice as well as focaccia offered as many as you like for lunch set, we are eager to come back here and to try another best choice of pasta plate
Gaston & Gasper Roppongi is just 30 seconds from Tokyo Midtown shopping complex and is on the way to the National Art Center Tokyo.
Restaurant name: Gaston & Gasper Roppongi
Address: Artshell 1F 7-4-4 Roppongi Minato-ku Tokyo
Website: http://gastonandgaspar.com