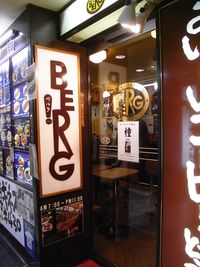 I do not know any other restaurant like Berg, nor how I can explain the type of the restaurant.
The small cafe is only 30 seconds from East exsit of JR Shinjuku station or on B1 (underground) floor of Lumine Est shopping complex.
Beer & cafe Berg opens from morning, serving breakfast. For lunch time, It offers Japanese style curry set, German plate (ham, salami and bread on a plate), with option of a glass of beer or wine. On evening, it looks like a cozy bar.
For a half of the floor standing bar counter occupies, while small chairs and tables each for two people stay close each other in the small restaurant. Japanese business men in gray suites, students in jeans, a lady reading a book hang on the counter, enjoyeing their meal with beer or wine on evening.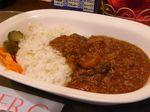 At least what we know about Berg,
it is an indipendent (non-chain affiliate) cafe
aiming at "cafe culture" mix of German, French and British style
leving from profit-first management way.
At the small restaurant,
morning coffee is prepared by the coffee master,
authentic German style sausages, the best feature of Berg, is done by the sausage master
bread with wild yeast is baked by the baker master everyday.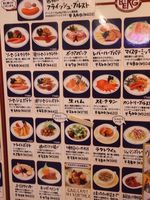 Although many of single menu at Berg cost less than 500 yen, quality of food & drink is very important for the owner and its clients, of course. 
The menu board is organized with photos of each plate and the staff are very friendly.
SO don't hesitate to jump in the crowd of beer & cafe Berg just for a glass of beer with sausage, breakfast or Japanese style curry lunch.
The blog title "The last small shop at Shinjuku Station" is taken from a book with the same name in Japanese and telling about the unique management style of Berg. Exactly as the book's title, it is the last small shop at the vital and very busy Shinjuku station. 
Restaurant name: beer & cafe Berg
Address: 3-38-1 Shinjuku, Shinjuku-ku, Tokyo
Website: http://www.berg.jp
 This is the message from beer & cafe Berg that we can find on the paper sheet, to understand more (or less?) about the cafe.