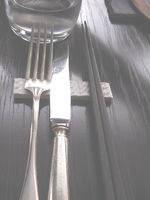 Chopsticks placed with a pair of fork and knife. As this cutlery setting, we are not sure if we should consider TOYO as a Japanese restaurant or French.
Local French people may believe that it is a Japanese restaurant elaborated in French style, while for Japanese, TOYO's cuisine is perceived as French with some Japanese taste because of the chef's home country.
It is fusion of French and Japanese or Paris and Tokyo styles.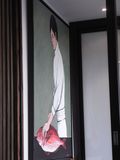 The unique flavor is strongly associated with the chef, Toyomitsu Nakayama's professional career. 
He started his career from a French restaurant in Kobe, where it is known for high quality beef. after he worked for some years in France, he was hired by ISE, one of the best Japanese restaurants in Paris and challenged a way of Japanese cuisine that is different from French.
Before the chef opened TOYO as the owner-chef in 2009, he had worked for the most famous Japanese fasion designer, Mr. Kenzo Takada as the designer's private cook.
Now we understand it is no sense to think over the restaurant to be French or Japanese.
Let's see what are provided at TOYO. We visited the restaurant for lunch on mid-April.
Amuse Bouche - Bouillon soup with sea shells
The soup was served on the table
and includes Japanese taste, Umami.
My starter dish - squid, white asparagus
topped with Karasumi (dried mullet eggs, local specialty of Kyushu region)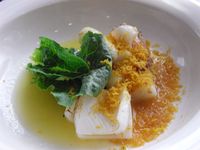 Full of spring season.
Karasumi is rare to be found out of Japan!
Main dish for me - beef filet anchovy sauce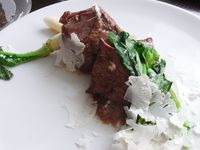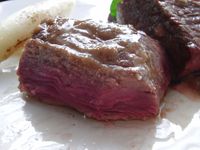 Thin sliced pieces of cauliflower are on top of beef.
The beef meat was finely cooked for "a point" or medium. 
Main dish for a friend - Curry rice with gamba in TOYO style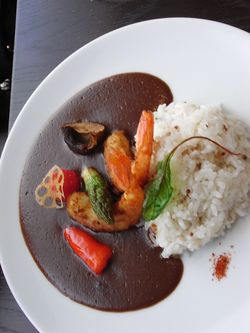 It is close to a typical Japanese style curry rice
but the presentation is much more beautiful.
For dessert, all ladies ordered a same plate.
Green tea tiramis!!!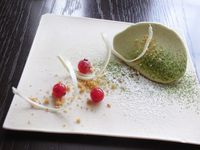 Again the presentation is fantastic!
We noticed some of ingredients especially fish and seafood as well as ways of cooking are in Japanese style at TOYO but plates beautifully presented look like French cuisine.
Whatever each of guest consider TOYO as either Japanese or French restaurant, it is a sophisticated choice and we will be able to enjoy plates for the taste and visual look.
Restaurant name: TOYO
Address: 17 rue Jules Chaplain, 75006 PARIS FRANCE
View Larger Map