We noticed that "Bento"(弁当, Japanese traditional box meal or lunch box) is a boom in France. So we tried a cafe called Nanashi "Bento Parisian" for lunch located on the 3rd district, north of Marais.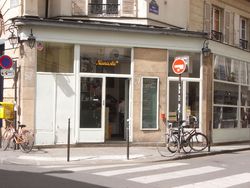 The cafe is produced by a Japanese lady who had been working as a cook at the bio-cafe, Rose Bakery widely known by foodies.
Let's see what Bento Paririan is like?
Nanashi is located in North Marais area where a Japanese tourist can rarely be found. 
At the counter just after the entrance, it provides take-away service. Yes, surely Bento can be taken away as we do in Japan. Several people may be waiting for picking up his/her Bento during lunch time.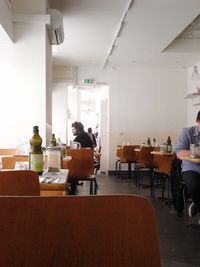 A side of wall is foot-to-ceiling height window bringing sunlight into the cafe tables    .
We can also find some staff including a few of Japanese female baking or cooking at the cafe's kitchen space, which is easily visible from the corridor. We have made sure that the cafe has Japanese taste at least on the making process.
The space stretches away into the back with a plenty of tables. As we could imagine, while walking the district, almost all guests are local French maybe walking or living in the area. It's not a place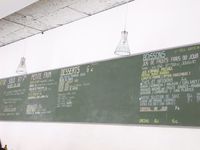 filled with Japanese seeking for home food.
On another side of wall, a large black board for menu is hang on.
The bright, modern and casual atmosphere is relaxing and must be good even if you are not interested in Japanese food.
Well on the menu, we could find familier Japanese words or food names in alphabetical letters; Chirashi (cooked rice, a kind of sushi), miso soup, edamame (boild green soy beans in its shell), beef bowl etc. But what we want to try here is, of course,...
Bento!!! Nanashi style
 Bento offered from chocices of meat/fish/vegetarian
accompanied with bio green salad.
The main menu changes on daily base.
My choice meat, today's menu is
pork roast with wild several kind of rice and cereal.
No Japanese taste is sensed for me but it is healty and tasty.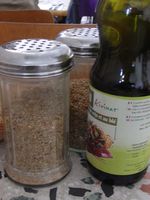 If you prefer to have more Japanese flavor, roasted sesami and bio soy sauce are available on your table.
Cafe name: Nanashi
Address: 57 Rue Charlot, 75003 Paris
Official website: http://nanashi.fr/
View Larger Map