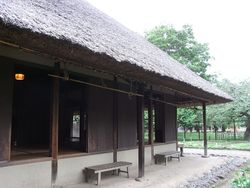 We found an interesting spot that must be attractive for those who are interested in Japanese food and culture behind it. It is called "Edo-Tokyo Open Air Architectural Museum" (江戸東京たてもの園) and it is a branch of Edo Tokyo Museum (江戸東京博物館) in Ryogoku.
Edo-Tokyo Open Air Museum is located on the outskirts of Tokyo. It might not be easy to access for non-Japanese speakers because of a bit complicated local public transportation. We still believe that, for non-Japanese tourists who are interested in discovering Japanese traditional life and culture including food, it is worth visiting and taking a half or one day there.
The open air museum operated by Tokyo Metropolitan government conserves buildings that had been used as a house, shop or for other purposes and also are considered important from the view of history and as culture heritage of Tokyo, Japan. It shows them to public as an open air museum on the land of 7ha area. 
Before going into deep of the museum, one advice we can give you.
To visit the museum, be ready to take your shoes off!! as same with modern ordinary private houses in Japan, it is required. 
What to see: For food lovers traveling in Japan, not-to-miss spots are followings. They are mainly situated in East Zone wherer traditional commercial buildings of 19th to early 20th centries are demonstrated in a row like a shopping archade.
Izakaya bar (called Kagiya 鍵屋)
Grocery store (Kambutsuya 乾物屋)
Aramonoya (荒物屋)
It is a shop selling hardware closely related in daily life such as cooking, cleaning, washing.
The open air museum sometimes shows "behind the scene", demonstrating pieces of real life at the time. One example is this tiny table (chabu-dai) with a tea set. 
When the weather is not too hot,
you will find Irori (囲炉裏, fire place) in a few of farmer's houses.
Rare to find it especially in Tokyo.
Apart from food and gastronomic fields, we can find some other interesting spots such as a perfect-look of public bath (not for taking but for looking at the archtecture and decoration) which is said to be one of models for "Aburaya" depicted in "Sprited Away"(「千と千尋の神隠し」), the award-winning animation movie by director Hayao Miyazaki. 
Where to have lunch: Two food & beverage facilities are in the museum. One is tea room in Western style building and another one is Udon noodle shop named "Kura (蔵)" accommodated on the upper floor of a Kura (蔵, storehouse) style buidling.
The Udon noodle shop offers several types of udon noodle dishes in local Musashino region style which includes some vegetables. This is Musashino Tsuke-jiru Udon (武蔵野つけ汁うどん, Udon with dipping sauce in Musashino style). 
To enjoy Udon noodle at the restaurant Kura, first purchase a ticket from a vending machine at the restaurant's entrance, selecting your order. Take a table and pass your ticket to a staff. It is casual style dining at resonable prices because of the museum run by Tokyo local government. But the taste of noodle is not as much as simple like the serving style.
How to go: There are several ways to access to the museum by public transportation from central Tokyo. We think this is the easiest way.
Take JR Chuo line from Tokyo or Shinjuku towards Tachikawa and/or Hachioji direction from East to West.
Get off at Musashi Koganei (武蔵小金井) station and go out from North Exit for the bus stop No.2 or No.3 (both operated by Seibu Bus) which are facing to the station. Take a bus from either bus stop to "Koganei Koen Nishi-guchi " (Koganei Park West gate).  It will take around 5 minutes.
Walk down through the large Koganei Park which is just in front of the bus stop, following sing boards of "Edo-Tokyo Open Air Architectural Museum (江戸東京たてもの園)". You will find the building of its visitor center with large black tiled roof in mid of the greenery Koganei Park.
To help you more, please also check the map and direction explained in English by the museum from here.
Edo-Tokyo Open Air Architectural Museum is also described well in general, not specific for foodies, by Around Tokyo. Please visit the page from here. 
Name of place: Edo-Tokyo Open Air Architectural Museum (江戸東京たてもの園)
Address: 3-7-1 Sakuramachi, Koganei-city, Tokyo 
Official homepage: http://tatemonoen.jp
View Larger Map