Many maybe know "Roppongi"(六本木) as one of the largest night spots of Tokyo or Japan. Otherwise Roppongi may remind you luxury facilities such as Roppongi Hills, Tokyo Midtown or Ritz Carlton Hotel. What we introduce today is very far from all of such images of Roppongi, even though the restaurant is just a couple of minutes walk from Roppongi Hills.
Nouen(農園) represents "farm" in Japanese as the restaurant has it on its site.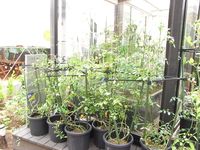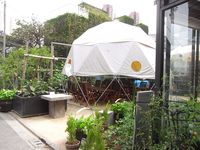 The restaurant was founded by a group of sons and daughters of farmer families, aiming at wiping negative images of agriculture business (hard, not cool, unprofitable etc) out.
So through the menu, the restaurant is really focusing on fresh vegetables and other gifts from the land and nature like river or sea, sourced directly from farmers day by day and season by season.  
If you feel lacking of vegetable, this is the place where you have lunch or dinner. Here it has never be possible to avoid a piece of vegetable and you will find various kinds of vegetable on a plate. They are surprisingly fresh, sweet and much more tasty than what we have had in other places. And some of them can be found only in Japan.

This is some examples of dishes served for a lunch course.
Soup of seasonal vegetable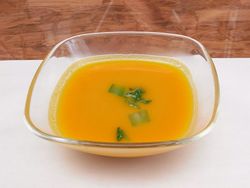 Cold pumpkin soup for a summer day.
A plate of seasonal vegetable and poached egg
impressive iconic plate!!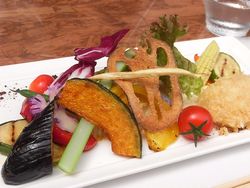 Healthy cooked rice with cereal grains and beans is also offered
and served as much as you are satisfied.
Finally dessert, made of fresh fruites from farms
to be served with a cup of coffee, or green or herb tea
that may be also available and could be more suitable for the place.

For dinner, it offers some courses with vegetable and meat or fish as a main dish, rice cooked in an earth pot. These are great harvests of Japan.

The private rooms also remind us that this is "the farm".
We had the lunch at a green house!!
was nice environment, close to outside

Restaurant Name: Roppongi Nouen (六本木農園)
Address: 6-6-15 Roppongi, Minato-ku, Tokyo
Official site: http://www.roppongi-nouen.jp
View Larger Map