Following the fist post of  Udon (Japanese traditional wheat flour noodle) series, today we introduce  one of the most casual way to enjoy the noodle in Tokyo and other parts of Japan.
Since several years ago, we see more and more self-service style Udon restaurants in Tokyo and surrounding area. The traditional noodle has good taste but it does not look so cool at least for us, Japanese locals to be honest. Especially Japanese ladies and girls were likely to choose Italian pasta for their lunch rather than Udon.
However the situation might be changed a bit by the emerging self-service Udon restaurants. Two major chains for the restaurant category are called "Marugame Seimen (丸亀製麺)" and "Hanamaru Udon (はなまる うどん)". Ordinary Udon and also Soba restaurants are small family-owned, table service restaurants, while the new type of Udon restaurants are in self-service style, offer more seats and at reasonable prices. For any kind of people from young to old, non-Japanese speakers, these casual restaurants will be a comfortable dining choice at very reasonable expenses. You could find units by not only those two major chains, Marugame Seimen and Hanamaru, but also other brands' in town.
The operation system at such self-service Udon restaurants are unique. No table service as we told and it may be more similar to food-court style.
First, check the menu and decide what you want to order. In many cases, you will find a poster or menu board with photos and prices for each. Then go to the counter and tell a chef cooking Udon noodle. Normally he/she is ready to listen to you.
You will get your ordered bowl of Udon in a few minutes. After that, proceed the way following the counter. If you would, you can add some pieces of tempura as a side dish.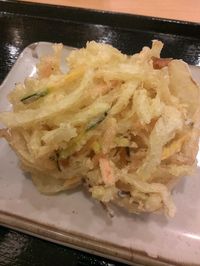 At the end, you will encounter a staff with a cash register, it is where you pay the bill. Usually it is around Yen 500 per person including one or two pieces of tempura, depending on what you take.
It is the moment when we recognize the value of this kind of casual Udon  restaurants. Nice and healthy Udon lunch or dinner set is available at Yen 500!! That's why these Udon restaurants become so popular among locals. Now we have more opportunities to enjoy Udon noodle than before.
Once you make a payment, take a pair of chopsticks, a cup of tea and add some condiment (shredded leek, sesame powder, hot chili powder for example) there then take a seat for enjoying your meal, all as you like.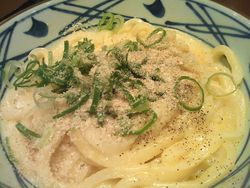 Marugame Seimen also explains the system in English on its website. To access the page, please click here.
The self-service style comes from Sanuki(讃岐) area, Kagawa prefecture, the most famous Udon producing area. So majority of Udon menu are also following the region's style, Udon noodle with thick sauce instead of full-bowl of soup.
Here we have some different versions examples, depending on the restaurants and season.
Mentaiko(hot cod roe) and butter at Seto Udon (before and after mixed)
It's rate to find Udon noodle with a piece of butter.
Niku (some pieces of beef) Udon at Marugame Seimen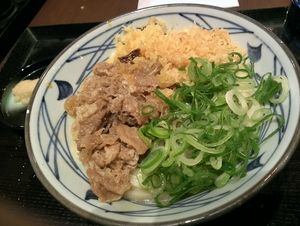 Self-service Udon restaurants at major locations, for example:
Marugame Seimen in Hibiya (near Imperial Palace)
Address: B1 floor Teigeki Building, 3-1-1 Marunouchi, Chiyoda-ku, Tokyo
Marugame Seimen in Shinjuku
Address: B1 floor Shinjuku Mitsui Building, 2-1-1 Nishi-Shinjuku, Shinjuku-ku, Tokyo
Hanamaru Udon in Ueno (brand new! Will be open from 10th January 2014.)
Address: 2nd floor Ueno Center Mall 4-7-2 Ueno, Taito-ku, Tokyo
Hanamaru Udon in Shibuya
Address: B1 floor Shibuya Homes Build., 2-1 Udagawacho, Shibuya-ku, Tokyo
Seto Udon in Shinagawa
Address: 1st floor Keikyu Dai2 Build., 3-25-23 Takanawa, Minato-ku, Tokyo