In Tokyo, the blistering heat of summer is trying to make us lose appetite almost everyday on August, while definitely consuming our physical energy. Nutrition is important for us under this hard weather. Today's feature, Udon (うどん) noodle is, we believe, an option to combat with summer heat and to take nutritious food more easily. 
First of all, Udon noodle is a major kind of Japanese traditional noodle along with Soba (そば). How different Udon is from Soba? Well, mainly...
Udon noodle is made of wheat flour and the noodle is in white color. On the other hand, soba is of buckwheat and the color is darker and looks in gray. Also they are different in diameter in many cases. If we compare them with Italian pasta spaghetti that many of you know, Udon has larger diameter than spaghetti does but soba has smaller than or almost similar size with the Italian noodle. We are sure, now you can distinguish between udon and soba, if they are both on a table.
As for difference in taste, soba has a bit stronger buckwheat flavor, while udon made of wheat flour has less grain taste. As it is for rice, Udon can be better match with other ingredients or sauce than soba. For example, more often Udon can be cooked with curry (Japanese style), kimchi (Korean hot pickles), beef or minched meat. One of Udon's features is the chewy texture. Soba is more suitable to enjoy the noodle's taste itself with Japanese stock soup and in some cases faint flavour ingredients such as leaf vegetable or seaweed.
Udon and soba noodles can be seen across Japan and they are slightly different versions by regions in term of noodle diameter, soup and typical accompanying ingredients. As for the soup, in East part including Tokyo, it looks dark like soy sauce while it has more delicate flavor with lighter color in West including Kyoto and Osaka.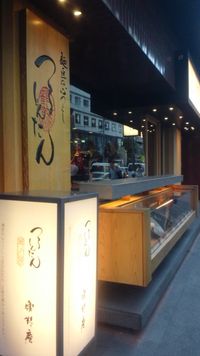 Well, if you feel simple udon or soba bowl is too gentle, we recommend that you try Udon in more flavouful style like Italian pasta. 

Tsurutontan (つるとんたん) is a good place to try and enjoy Udon noodle in different styles. Many of their units are located in night spots area of both Tokyo and Osaka. Roppongi branch is also one of them. In the biggest night spot area, Roppongi, it is just a few minutes walk from Roppongi crossing where you won't feel uncomfortable to speak in English or any other than Japanese.
The Udon specialized restaurant Tsurutontan is totally Japanese world visually. What's different from ordinary traditional Udon restaurants is that we can find more younger people who are less likely to take such old style meal. Partly it is because of the location and the rest Tsurutontan's modern and variety noodle attracts them.
We can also find some Japanese traditional objects
(some maybe antiques) at the restaurant.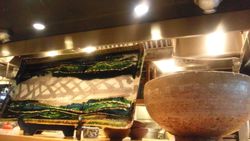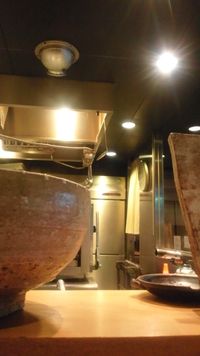 The kitchen is just behind a counter table.
It offers so many different versions of noodle and they are served in very big (almost-wash-basin like ) bowls. We guess the surprise is "made in Osaka", the restaurant's origin.
From typical curry sauce to Sukiyaki, mentaiko (spicy cod roe), cooked with miso paste, with shrimp in cream sauce as Western style or some of them are seved cold... With the price around Yen 2000 or even less, it is hard to decide one from so many attractive choices.
Finally with tempura plate, I took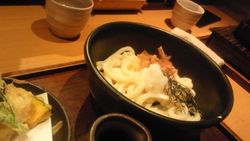 The smooth texture is easy to take them into your mouth as long as it is appropriately caught by chopsticks. (or don't hesitate to ask folk or to use spoon, it is actually hard even for Japanese locals.)
The noodle is chewy and whippy. That represents good quality of and carefully cooked Udon.
When we finish the udon meal, our energy had been filled up and were ready to get back to the severe hot summer
Tsurutontan opens from 11a.m. to next morning 7:30 a.m. Yes, it also welcomes those have enjoyed nightlife around the area. And another unit is at Haneda International Airport.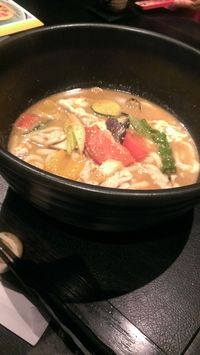 Restaurant name: Tsurutontan (つるとんたん) Roppongi
Address: 3-14-12  Roppongi, Minato-ku, Tokyo
Website: http://www.tsurutontan.co.jp/roppongi/