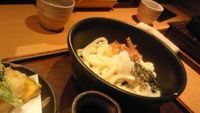 During this Winter holiday season, we would like to cover some Japanese restaurants where good "Udon(うどん)" noodle is served.
First of all, let's review what is "Udon" noodle with our past posts as introduction.Udon noodle is a major kind of Japanese traditional noodle along with Soba (そば).
Ingredient:
The biggest difference between Udon and Soba is ingredient of noodle. Udon noodle is made of wheat flour, on the other hand, soba is of buckwheat.
Look:
Color, because of the difference in ingredient, Udon noodle is in white color, while Soba is darker and looks in gray
Size of noodle or diameter, if we compare them with Italian pasta spaghetti that many of you know, Udon has larger diameter than spaghetti does. Soba has smaller than or almost similar size with the Italian noodle.
Taste, soba has a bit stronger buckwheat flavor, while Udon made of wheat flour has less grain taste but more chewy texture partly because of the larger size.
Soup for these noodle is not so different. Some restaurants offer a diner the choice of noodle either Udon or Soba for same kind of soup.
Well, Udon as well as Soba noodles can be seen across Japan and they have slightly different versions by regions in term of noodle diameter, soup and typical accompanying ingredients.
Secondly please let us show you some typical menu vocabulary for Udon.
Kake(かけ) – very simple, only noodle and soup, no other ingredient or condiment. So this menu must be the least expensive normally.
Zaru(ざる) – "Zaru" represents "basket". Noodle will be served on a basket or flat net with a cup of dipping sauce separately. It is popular especially in Summer. In that case, noodle is likely to be made cool by cold water after it is cooked.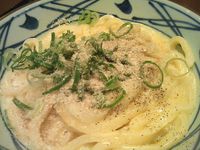 Kama-age(釜揚げ) – It takes a different way in finishing and serving. Noodle is moved to a bowl directly from cooked pot (Kama). A typical process to wash noodle with running water is not taken for Kama-age. Also it is served with special thick sauce instead of full bowl of soup.
Tanuki(たぬき) – The name comes from animal Japanese "raccoon". In Tokyo and surrounding area, it is noodle with tiny pieces of tempura batter.
Kitsune(きつね) – It's relative of Tanuki. Kitsune means "fox". Kitsune Udon has "abura-age"(deep fried tofu or bean curd) on top of the noodle bowl.
Tsukimi(月見) – This name comes from the look. It is more convincing name compared with Tanuki and Kitsune. Tsukimi, "Moon-watching" includes raw egg on top of Udon bowl. The yolk looks like the Moon.
Kakiage(かき揚げ) – A piece of mixed Tempura, called Kakiage, is on top of the noodle. Please check our post to know more about Kakiage from here.
Curry(カレー) - Japanese style curry sauce is added to noodle soup
We should talk about "Japanese style" curry too some days! It's a bit different from ones in India or Thailand. It is sweeter actually and quite popular menu for kids in Japan.
We have more and more versions of Udon soup and ingredients. But that's all for today unfortunately. We will keep introducing them time by time, even after this series of posts.
3 largest or best Udon producing area in Japan
For the first two, everyone agree maybe. For the third one, it is controversial and many people raise different brand areas. It's only on our opinion.
Samuki Udon (讃岐うどん) in Kagawa prefecture, Shikoku. Definitely it is the most popular area for Udon noodle.
Inaniwa Udon (稲庭うどん) is also one of the regions known for Udon noodle. It is in Akita, Tohoku region.
Kishimen (きしめん) is the specialty of Nagoya. Unlike ordinary Udon, the noodle is flat and looks like "fettechine" in Italy.
Before we introduce some nice Udon noodle restaurants in Tokyo as a series of posts, here is the list of our past posts which cover Udon noodle.
Udon (うどん) - Tsurutontan, Roppongi (つるとんたん, 六本木)
http://aboutfoodinjapan.weblogs.jp/blog/2012/08/udon-tsurutontan-roppongi.html
This is one of the best place to enjoy Udon. It offers many different versions including some modern and international for the traditional noodle in a big bowl. The location in Roppongi is also convenient and easy for international tourists.
Hokusai (北斎), Japanese restaurant in Tokyo Disneyland
http://aboutfoodinjapan.weblogs.jp/blog/2013/03/hokusai-japanese-restaurant-in-tokyo-disneyland.html
Udon is available even at a Japanese restaurant in Tokyo Disneyland! Served with a piece of carrot in Mickey shape.
Discover life of Japanese in good old days at Open Air Architectural Museum
http://aboutfoodinjapan.weblogs.jp/blog/2013/06/discover-life-of-japanese-in-good-old-days-at-open-air-architectural-museum-.html
We introduced the local style in Musashino, outskirt of Tokyo.