Following last two posts for our Udon series in Winter holiday season, here we would like to introduce a nice and reasonable Udon restaurant in Shinjuku.
Sangokuichi (三国一) Udon restaurant has 3 units in central Shinjuku where some of international tourists stay as their base in Tokyo. The restaurant provides various menu for typical Udon across Japan at around Yen 1,000 for each.
Even though all these three units are in Shinjuku, which is a very modern town with sky-scrapers, they offer space with cozy traditional decoration and wood beams inside. The atmosphere is surely appropriate for a restaurant specialized in Japanese traditional noodle.
A unique point of Sangokuichi is the variety of menu by region and toppings.
From very typical menu such as Udon with tempura, Tanuki (with pieces of tempura batter), specialty of Sanuki region and Inzaniwa to Edo style Nabeyaki (cooked in a pot), Miso Cutlet from Nagoya, Chinese style with Mapo tofu, Salada style etc. Whatever is in your mind at that time, you may be able to find the best choice for you. For those who would like to try some interesting toppings, it may be hard to choose just one from many attractive choices on the list.
One day, I selected "Buta Kimchi" (pork with kimchi)
which is rare to be found at an ordinary Udon restaurant.
Served with some leaf vegetable.
A few selections of seasoning: roast garlic, mixed hot pepper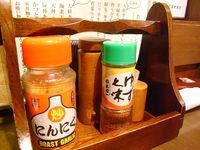 If you would like to try Udon noodle for the first time, Sangokuichi must be a good choice because of the abandant and very nice falvour choices offered.
Restaurant official homepage (in Japanese): 
Sangokuichi Higashi-guchi (East Exit)
Address: 3-24-8 Shinjuku, Shinjuku-ku, Tokyo 
Sangokuichi Nishi-guchi (West Exit)
Address: Nishi-Shinjuku Showa bld. 1-13-10 Nishi-Shinjuku, Shinjuku-ku, Tokyo
Sangokuichi Island ITS
Address: B1 floor Island Tower, 6-5-1 Nishi-Shinjuku, Shinjuku-ku, Tokyo