On the last post, we introduced Sangokuichi (三国一) Udon restaurant where we can enjoy various types of Udon across Japan in Shinjuku. Today we bring up another nice Udon restaurant focusing on a specific type of Udon in Ginza.
Sato Yosuke (佐藤養助), originally based on Akita prefecture in west of Tohoku region, has over 300-yearis history as a producer of Inaniwa Udon which is one of the most famous type of local Udon brand in Japan. The name Sato Yosuke comes from the founder who invented Inaniwa Udon. The noodle of Inaniwa Udon is flat and thinner compared with an ordinary type.
Well, we will report what we had at Sato Yosuke Inaniwa Udon restaurant.
The traditional Udon restaurant is in central Ginza area, not far from SONY and Hermes buildings. It is about 5minutes walk from Ginza 4Chome crossing, the heart of the luxury shopping district. The façade and signboard remind us the house of Sato Yosuke with long tradition and fine techniques as Udon producer.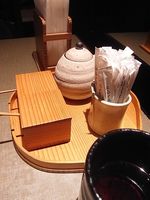 From the façade, we were not able to imagine such modern stylish interior decoration of the dining room surrounded by walls in dark gray. Anyway it 's cozy space to taste the fine traditional noodle.
This menu should be the best for the first visitor.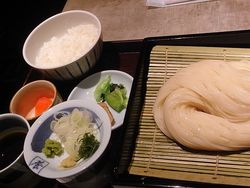 Nimi Set (二味セット), representing "2 different taste" in Japanese,
includes Inaniwa Udon with two different flavor dipping sauce, a bowl of cooked rice produced in Akita region same with the noodle with a few pieces of local specialty "smoked" pickles called "Iburigakko".
The dipping sauce are Soy sauce and Miso & sesame flavors.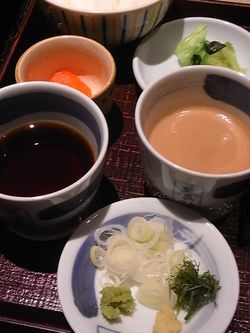 Look at this shining and glossy noodle! We have never seen like this.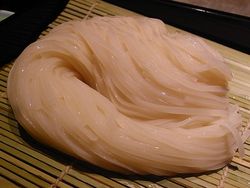 That must be by the highest technique of Udon master.
The noodle is thin as Udon but resilient. It is a bit like "al dente" form in Italian pasta.
A bowl of rice is served exclusively for lunch time.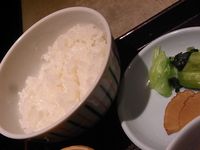 Rice is also local specialty of Akita prefecture.
Here the best brand rice, Akita Komachi will be served with some pickles.
Sato Yosuke Udon restaurant offers other choices such as cold (Hiyashi, ひやし), seiro (for which noodle and sauce served separately) with tempura, seasonal menu.
 Our recommendation in addition to Nimi Set, is Udon with "Thailand curry". Recently we also found Udon noodle can go very well with Thailand curry. At Sato Yosuke the curry includes Akita's brand Hinai Chicken and Shottsuru soy sauce made from fish. Then you will learn several words related to local specialties of Akita, while taking some food at the Udon restaurant.
Let's fully enjoy local specialties of Akita!
Restaurant name: Ginza Sato Yosuke (銀座 佐藤養助)
Address: 1st floor Idei Honkan, 6-4-17 Ginza, Chuo-ku, Tokyo
Official website (in Japanese): http://www.sato-yoske.co.jp/ginzaten.htm