On the last post, we introduced a restaurant in Ginza which specializes in Inaniwa udon from Akita prefecture, North of Japan. Here we will show you another local style of udon from West, Mie prefecture.
"Ise"(伊勢) is very well known for Ise Grand Shrine, the top of top of Shinto. Ise udon is the local style of Udon developed in the center of Shinto. In Tokyo, Ise udon is rare to be found. So today's our recommendation Saryo Ise Tojiro (茶寮 伊勢藤次郎) in Shibuya is an unique place where we can try the local specialty easily and in casual manner in Tokyo.
Saryo Ise Tojiro (茶寮 伊勢藤次郎) is located in one of the newest but the most popular shopping complex, Hikarie, in Shibuya. The casual Udon restaurant is located on Shibuya station side of Hikarie shopping complex.
From large windows, busy and vital Shibuya station and surrounding area,
where it will be changing time by time, is visible.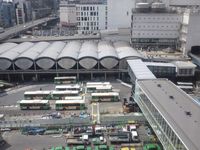 The building of Shibuya station for Toyoko line was closed last year
and when you visit, you will see different view surely.
Main characteristic of ISe udon is thickness of noodle, Because of the noodle characteristic, usually Ise udon has less condiment and toppings compared with other types of Udon. Another difference with others is thick soup or should be called "sauce".
What we had is a bit exceptional from that point. The special limited season offer at that time had tempura on top of Udon noodle. It might be adjusted to the style in Tokyo, out of origine.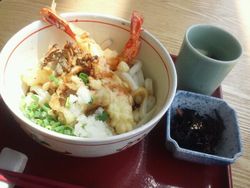 The noodle of Ise udon is incredibly soft. The texture we had is definitely different from what we have usually as udon. It was the first amazing experience even for us, Japanese in Tokyo.
Let's enjoy the local Ise udon with unique texture in Shibuya, Tokyo!
Restaurant name: Saryo Ise Tojiro (茶寮 伊勢藤次郎)
Address: 7th floor Hikarie, 2-21-1 Shibuya-ku, Tokyo
Official site (Hikarie): http://www.hikarie.jp/en/index.html