One of the best local specialties in Hokkaido will be "seafood".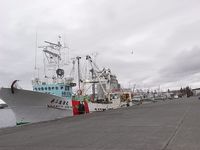 The land of Hokkaido is surrounded by three major oceans, Pacific, Okhotsk and Japan Sea. In the north-most land of Japan, the fishery industry has been flourished for over centuries.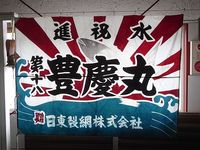 Even for locals, Japanese people, to take fresh high quality seafood can be a good reason to fly to and stay in Hokkaido. While the owner of About Food in Japan traveled in East and North of Hokkaido for five days on April, she could enjoy variety of seafood in every city visited, then almost every time lunch and dinner. On this series of blog post with the theme, Hokkaido, here we introduce what kinds of seafood can be enjoyed there.
Two top fishery products in Hokkaido are "Hotate"(帆立, scallop) and "Sake"(鮭, salmon). "Kani"(蟹, crab) is also known as must-try iteam in Hokkaido by locals, especially in winter.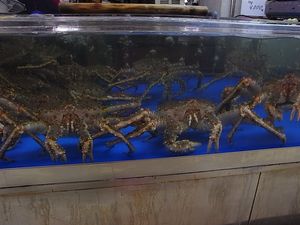 The variation of fishery products in Hokkaido is vast from luxury items "Uni" (ウニ, sea urchin) and "Ikura" (イクラ, salmon roe) to casual ones often found in Izakaya, "Shishamo" (シシャモ, "willow leaf fish" local species) and "Hokke" (ホッケ, Okhotsk atka mackerel). Not only fish and shells, " Kobu" (or kombu, 昆布) kelp made in Hokkaido occupies substantial share in the market.
Here we show how they look and how they are cooked as some examples.
Sushi or sashimi
As many of you know well, for many seafood, the best way to taste them is
to make them remain "raw" and served as sushi or sashimi.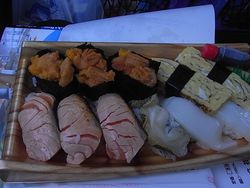 Found Sushi counter with skilled chef even at a tourist point, Cape Nosappu.
Top left - sea urchin, Bottom left - grilled salmon,
Bottom middle - Tsubu-kai seashell, Bottom right - Squid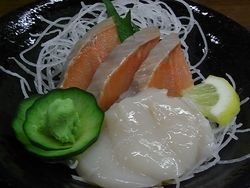 Sashimi plate
Top - trout, Bottom - scallop
Sashimi plate, both "Hokki-kai"(北寄貝,Sakhalin surf clam)


A part of shell meat becomes impressively red color, when it is cooked.
Don(donburi)
Don (丼) is a casual way to enjoy some ingredient on top of rice.
Seafood is one of the best ingredients for Don.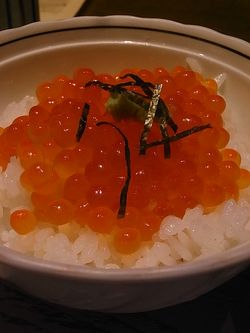 Ikura-don (Salmon roe on top of rice)
For some people, fish eggs look strange and unfamiliar.
Ikura, Salmon roe, is very much appreciated by local Japanese.
If you try high quality fresh ones, you will find the unique taste.
It's also called "red caviar."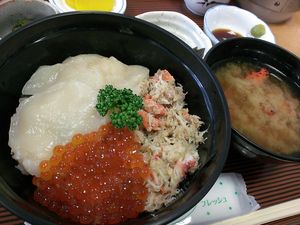 Kaisen-don (海鮮丼, seafood on top of rice)
At Cape Nossapu, near to Nemuro (根室) where the most amount of seafood is dealt at the port.
We were so happy to enjoy the TOP 3 seafood in a bowl; Scallop, crab and salmon roe.
Ingredient of seafood for Kaisen-don varies
by restaurants and time depending on availability and each restaurant's recipe. 
Fresh seafood available even at souvenir shops in tourist points.
Introduction of seafood in Hokkaido continues to our next post. 
At the end, we would like to share some photos even not directly related to food, as we were enough luck to watch sunrising from Okhotsk Sea at the Port Monbetsu.