What we are going to introduce today is unlike an ordinary restaurant.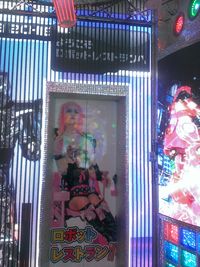 The name includes surely a word "restaurant" and it provides (boxed) meal in its main hall. But probably it will be better to consider it as a "show place" rather than a place where you enjoy meal and drink.
Anyway as we found that it's a fun place and provides amazing entertainment for adults, we would like to introduce the venue as an option to enjoy a moment in Tokyo.
Robot restaurant is situated in the middle of Kabukicho (歌舞伎町). The area is five minutes walk from Shinjuku station. It is known as "red-light" district among locals. Usually females and kids are unlikely to drop in the area. However Robot Restaurant is the 16th most popular tourist spot among international travelers visiting Japan, according to Tripadvisor.
So why not to go there?!
It's an exception, where female can be welcomed, in Kabukicho.
The show provided 4 times a day and the number of seats are limited for each show. So we strongly recommend that you make a booking in advance through its website.
http://www.shinjuku-robot.com/
It has English version and reservation screen!! No worry to book.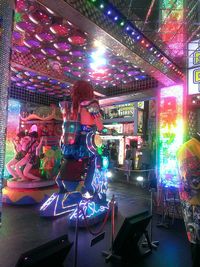 At the entrance, some female robot can be found. From the entrance, it is filled with colorful and shiny decoration.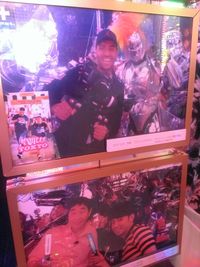 On the wall at the entrance, we can also find a lot of pictures capturing celebrities, artists or journalists visiting Robot Restaurant. 
We arrived much earlier than the main show start, because we head that we can enjoy very much even at the waiting lounge before the main show.
 That is true!!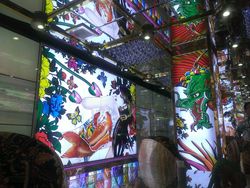 The waiting lounge itself is so gorgeous and is worth to visiting it. As we arrived earlier, we could take the most comfortable armchairs. 

At the waiting lounge, some light snacks and alcohol drink are offered. But you can stay even without ordering any item.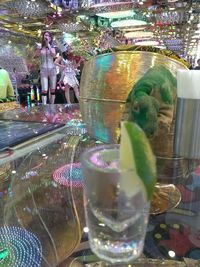 I ordered tequila to enjoy the wonderful moment.
Live music is also provided for a while. They look like also robot but maybe human who play nice peaceful music.
There we were also welcomed by a cute and small ROBOT called pleo.
After we fully enjoyed the waiting lounge. We were invited to downstairs where we can find the main show.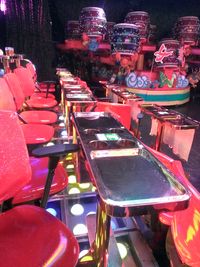 Even before its starting, I felt exciting at the dark floor with some colourful decoration.
Here we could put a few images of the show but they are not all.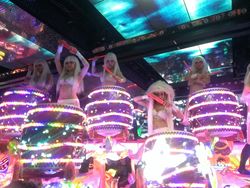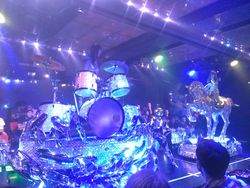 For the rest, we won't disclose as we want you to enjoy them by your own eyes.

The main show includes many different simple stories with amazing entertainment not only by robot but also by Japanese female dancers. For some people, the show could be felt like watching cheap comedy show on TV. But still it was fun and we had good time. And that exceeds our expectation much!!
If you want to enjoy with laughing and excitement for a couple of hours, while leaving your daily life and something annoying you, we recommend that you spend Yen 6000 and 2 hours at Robot Restaurant. But that is as long as you are a matured adult, because of the show by too sexy female dancers and taken place at the largest red-district in Japan.

After that, simply enjoy the show!!
Restaurant name: Robot Restaurant
Address: 1-7-1 Kabukicho, Shinjuku, Tokyo
Official website: http://www.shinjuku-robot.com