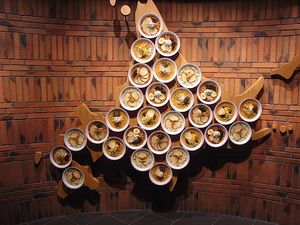 Ramen Dojo(ラーメン道場) in New Chitose Airport(Sapporo) is an amazing street devoting to "Ramen".
Ramen, which is one of the icons in Japanese food as many of you know, is also known as one of the local specialty of Hokkaido. So that the popular local specialty can be enjoyed by as many tourists as possible and until the end of their travel in Japan, Ramen Dojo is created in the largest airport in the region.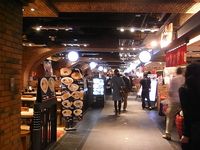 Ramen Dojo is on the 3rd floor of Domestic Terminal of New Chitose Airport. Several Ramen restaurants, including some with high reputation, stand along the street. The location is close to a connecting bridge to International Terminal. So even if your flight is for international destination, it won't be difficult to go as long as you have enough time.
 By the way, "Dojo" represents "training hall". So Ramen Dojo can be a place to learn about Ramen even for those who are not yet familiar with Ramen.
They have English menu with some photos as well.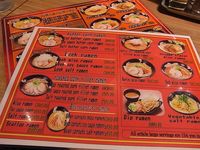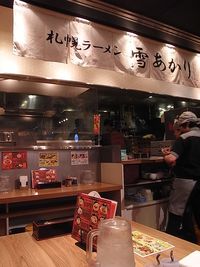 We visited  the one called "Yuki Akari" (the name meaning "Snow Light" in Japanese) in Ramen Dojo. It provides "orthodox" style Sapporo Ramen with chicken bouillon and stock soup taken from local Hidaka Kobu.
What I chose is No.1 popular menu, Butter Corn Miso Ramen. Those 3 ingredients are perfect match with Ramen noodle. Typical topping, pork char-siu, memma (bamboo shoot pickles) and leek are for the regular version.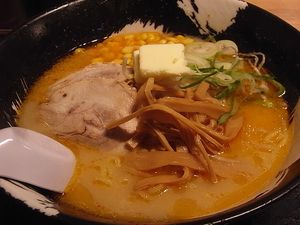 The standard and good quality Ramen will surely provide a good opportunity to understand what is good for Ramen for the beginners.

If you have not tried Ramen in Japan, even if it is just before your departure from Japan, Ramen Dojo must be a good "Training Hall" to learn the popular local specialty. For those loving Ramen, it can be the last bowl in Japan!!
By the way, this is also the end of our Hokkaido series blog post!!
Thank you for your reading!!
Restaurant: Yuki Akari, Ramen Dojo (雪あかり、ラーメン道場)
Address: 3rd floor, Domestic Termina, New Chitose Airport, 987 Bibi Chitose-city, Hokkaido