Now it's a good season to enjoy autumn leaves in Tokyo and other parts of Japan.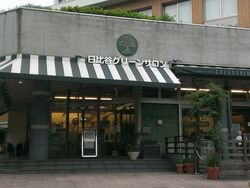 Today we introduce a nice cafe operated by a public sectore, Tokyo metropolitan government.
Hibiya Green Salon is located in Hibiya Park, which is between JR Yutakucho and Shimbashi station. The park is also sandwiched by Imperial Hotel Tokyo and Japan's goverment office district called "Kasumigaseki (霞ヶ関)". In spite of such central location, the park is filled with trees and plants.
When the weather is nice and it is not too cold, it will be a good option to walk around in the park for break or even to have lunch at a bench in the park.
Another option to enjoy looking the park view is to have coffee and a piece of cake at Hibiya Green Salon. The cafe is located west area of the park, near the library.
Inside of the cafe, it looks like a canteen and provides lunch set that are likely to be found at a such canteen. But its sweets are not same type of food. The cakes are from "Patisserie Ikedayama" in Gotanda and they look much better quality ones obviously.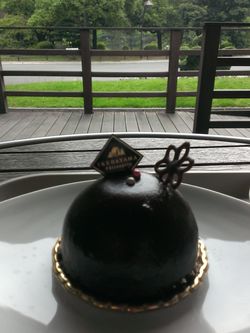 A piece of cake and coffee must be a good choice to enjoy the green or yellow colored trees in the park from the terrace of Hibiya Green Salon.
We will keep continue to introduce several more cafes in central Tokyo.
Cafe name: Hibiya Green Salon
Website of Hibiya Park (where the tea salon is located):
 http://www.tokyo-park.or.jp/english/park/detail_02.html
 Address: Hibiiya Koen 1-6, Chiyoda-ku, Tokyo