Asakusa is quite popular tourist spot in Tokyo, as many of you know probably, and it is always filled with tourists inlcuding those come from out of Japan.
Here we introduce two newer nice spots there.
The first one is the top floor of "Asakusa Culture Tourist Information Center" .  
The information center, opened two years ago, is situated just in front of Kaminarimon gate over a crossing, very heart of Asakusa.
On the ground floor, information service is provided as same with other tourist information centers around the world. On the 2nd floor, it has some PC with internet for self-searching and also some seating space where we can enjoy the view of the crossing in front of Kaminarimon gate, the icon of Asakusa.
You will miss a lot unfortunately if you leave from the center by just visiting the lower two floors.
Don't forget to climing up to the top !! So you can find very nice view from there.
Like this, if the weather is fine.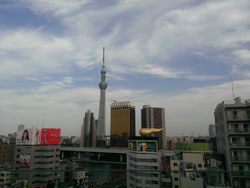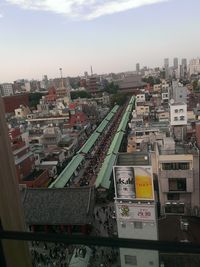 Overlooking the Nakamise street

from another side.
On the top floor of Asakusa Culture Tourist Information Center, a small cafe is available, so you can enjoy the scenic view of Asakusa town as long as you want and the floor opens for public, until 8p.m.
Well, for those who enjoyed the town view from the 8th floor enough, we will introduce you a nice Japanese tea salon near Kaminarimon gate.
It is accommodated in Matsuya department store in Asakusa. The department store is between Sumida river and Kaminarimon gate and is adjacent to Asakusa station on Tobu line. It will be easy to be found it.
The tea salon called "Toraya"(虎屋) is on the ground floor, in the middle of sweets boutique area. Toraya has been mentioned a few times on our past blog posts.
For example, as below.
Japanese tea salon - Toraya Akasaka flagship store(虎屋赤坂本店), Tokyo
Toraya Cafe, Roppongi (トラヤカフェ, 六本木)
Toraya is one of the most appreciated Japanese traditional sweets makers in Japan.
Here in Asakusa too, we can enjoy the traditional sweets.
It must be a good escape spot in the heart of busy Asakusa.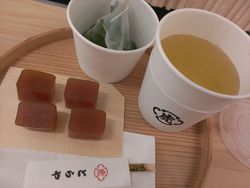 Served in self-service style with a paper cup and a tea bag.
Yokan (sweet beans cake) is served by cutting into small pieces.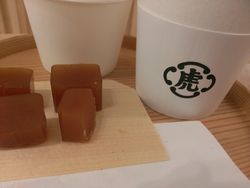 Take a short break with traditional sweets on a cute cushion
Cafe name: Toraya, Matsuya Asakusa (虎屋 松屋 浅草)
Address: 1-4-1 Hanakawado, Taito-ku, Tokyo
Matsuya Asakusa official homepage: http://www.matsuya.com/foreigner/en/m_asakusa/