Some of you may visit Ueno Park in Japan. In the large Ueno Park, some major tourist attractions, such as Tokyo National Museum, National Museum of Nature and Science and Ueno Zoological Garden, are located.
Ueno Park will be a good spot to spend a half day by visiting one or two museums you are interested in. You will also be able to enjoy the nature showing different scenes by season, while moving around museums etc in the park.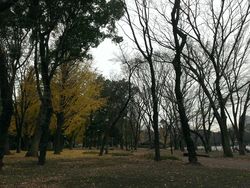 Current season, on the beginning of December, we can find yellow leafs everywhere in the park.
Well, today we will introduce two recommendable cafes in Ueno around the train station.
Café name: Ueno Green Salon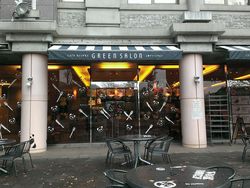 The café is situated just at the entrance of Ueno Park near National Museum of Western Art. The casual canteen like café offers some cute "PANDA menu", celebrating the most popular animal in Ueno Zoo in the park.
I wish I could try this "Panda Curry"
but my stomach did not allow that.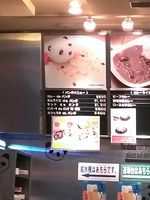 Alternative recommendation, café latte,
if you are not enough hungry to try the cute main dishes
like curry, Omuretsu(omelet & rice).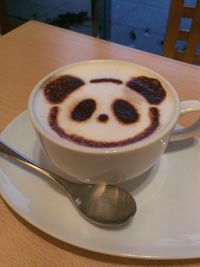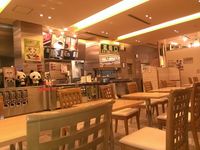 It has a plenty of,100, seats and it will be easier to find a table out of peak time, lunch time during weekend. It also has some tables on outside terrace which will be a nice option when the weather is in good condition.
Address: 7-47 Ueno Park, Taito-ku Tokyo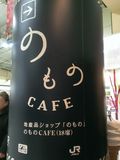 Café name: Nomono Ueno (のもの)
Nomono café is a part of Nomono shop in the building of JR Ueno train station. It is outside the gate near Central Exit and is accessible without a train ticket.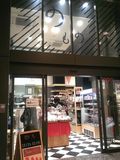 From outside you can find the grocery store. The café is behind the shop.
"Nomono"(のもの) is a food store operated by JR East railway company, offering local specialties and seasonal products in East Japan area.
As long as you order one drink or food at the café counter, you can also take food products available from Nomono grocery shop, from sweets, snack etc.
At the small café, lunch set, small salty plates and Japanese sake are provided. Some menu are changed by month and products from different prefectures are introduced.
It will be a good place to try some Japanese local food and sake or to take a short break before or after taking a train from the station.
 What I selected for today is…. A piece of Panda  hand-made rice cracker from Nomono shop and "Azuki" beans tea served by a pot.
If you arrive there on evening, sake tasting set (Kikizake set 利き酒セット) will be interesting. It costs Yen 500 for 3 different kinds of alcohol.
Address: Grand Concourse JR Ueno station Central Exit, 7-1-1 Ueno, Taito-ku, Tokyo
If you look for something associated with Panda, you will find more souvenir products or food at other stores or cafe. Like this!