Not only Starbucks, we can find some Japanese domestic coffee chains in Tokyo. Today we introduce one of them, Hoshino Coffee (星乃珈琲) with its interesting food menu.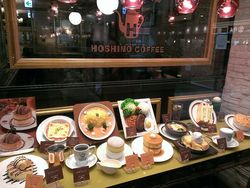 Hoshino Coffee shop has a kind of atmosphere like an independent coffee shop, although they are operated by a major restaurant chain in Japan. The interior and their menu cannot be felt as modern and latest. We could rather regard it as being in the good old days. That makes the coffee shop comfortable space from young girls to an old couple.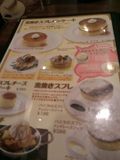 Another feature of Hoshino Coffee is a series of menu, "Souffle"(スフレ). Some of you may know "souffle" is a way of cooking invented in French cuisine. The original one has fluffy texture made by whipped egg white. The fluffy texture is essential element of food called "soufflé."
Hoshono Coffee offers several menu on its soufflé series from pancake, cheese cake, traditional soufflé cake etc.
But the most interesting menu is "Souffle Doria."
"Doria" is popular lunch menu in Japan and you may find it at family restaurants in Japan. It is a kind of "rice gratin." Cooked rice is covered with white sauce and cheese in a thick pot and it is baked in oven. It is considered as "Western food" among Japanese but now we found it born in Japan. As per description on Wikipedia, it was invented by a chef from Switzerland but based in Japan when he served to a banker from Europe.
The original doria is also recommendable but, at Hoshono Coffee, in a large cup, rice is covered with soufflé(whipped and baked egg white maybe)!!

I was so excited for the great match, when I found the menu,
soufflé doria.
The rice under souffle part is flavored with ketchup, so the taste may be a bit similar to omelet with rice, which is also popular menu in Japan. But the texture of soufflé is much better. It is melting in the mouth…
That is not traditional Japanese food but it's worth trying the texture in Japan.
"Souffle doria" is available only at Hoshono Coffee chain shops.
While many of Hoshino Coffee units are situated in residential area, some are in central locations, such as Shinjuku, Shibuya and Roppongi.
Here are some of them;
Shinuku Alta
Address: Shinjuku Studio Alta B1, 3-24-3 Shinjuku, Shinjuku-ku, Tokyo
 109 MEN'S (Shibuya)
Address: 2nd floor, 109 MEN'S, 1-23-10 Jinnan, Shibuya-ku, Tokyo
Roppongi
Address: 1st floor Trinity bld. 7-14-7 Roppongi, Minato-ku, Tokyo
Ginza 8chome
Address: 2nd floor Taiyo bld. 8-8-5 Ginza, Chuo-ku, Tokyo