Only a month from my last visit of another yakitori restaurant, AKira, I had a chance to enjoy yakitori at a typical restaurant specialized in the menu. 鶏繁 Torishige is located in Shimbashi, the town known for "holy land" of サラリーマン (salarymen, Japanese businessmen). Yes, Yakitori restaurant is one of the most favorite dining experience for that sort of people. After a full day of hard working, they gather, have grilled chicken with beer and chat with their colleagues or friends for stress release. The price is modest so they can often have the opportunities.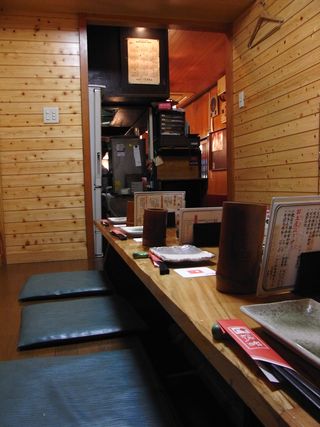 Torishige is one of well-known restaurants in the area. We knocked the door of the restaurant just around its opening time 17:00. We know otherwise we could not get a table. It was Friday evening on December, party season. Around 19:00, all seats were occupied and these seats did not become empty until late 21:00 or later. The interior, seating style are very typical Izakaya restaurants.
Here we can try different parts of chicken. The yakitori chicken are made char-grilled by master chef. They have to be eaten as soon as arrived on the table. The best way to enjoy fresh and hot skewers there.

What we cannot miss here is a bowl at the end of the dinner.
Minced chicken seasoned with soy sauce filled a bowl on top of rice.
We can have same menu at mum's home or at some restaurant. But here the taste is unforgettably great!!

Restaurant name: Torishige Sohonten (flagship)
Address: 2-9-17 Shimbashi, Minato-ku, Tokyo
Website: http://www.torishige.com
Related story -鶏(とり、chicken) - 焼鶏 あきら (grilled chicken Akira)
http://aboutfoodinjapan.weblogs.jp/blog/2009/11/%E9%B6%8F%E3%81%A8%E3%82%8Achicken-%E7%84%BC%E9%B6%8F-%E3%81%82%E3%81%8D%E3%82%89-grilled-chicken-akira.html