In Tokyo, we still feel, a few times or more in a day, aftershock of the huge natural disaster happened 2 weeks ago. We have another concern about radioactive contamination as my previous posts. However we cannot turn down a chance to visit this restaurant, Ogino. The French restaurant with 20 seats is often featured on gourmet page of magazines and it is so popular that we rarely can find a vacant table even if we try to call for a reservation many times.
Fortunately a few months ago a friend succeeded in making a reservation for dinner on a weekday evening of March. We had been looking forward to being at Ogino since that time. That has not changed for us even after the unexpected very sad event. For all of us, it was the first pleasant gathering or dining out with good friends since 11th of March. On the way to the restaurant, we found the town of Shibuya seemed to be back to normal and streets were filled with young people as we saw before.
Ogino is located in Ikejiri Ohashi (池尻大橋), just a stop from Shibuya. The owner chef, Mr. Ogino mentions about the restaurant's concept on its official homepage. It is "bistronomy" (bistro + gastronomy) or a mixture of different category of French dining, bistro, brasserie and gastronomy (luxury). It allows diners to visist the restaurant in different occasions. The quality of meal is as high as like upscale restaurans but the atomosphere is rather casual like bistro. That is what the owner wants himself and he made it in reality.
Yes, I agree that Ogino is such a place, as the chef aims, bistronomy.
Let's see some of what we had that eveinig.
First of all, it was really hard to select one or two plate from the very attractive a la carte menu...
Starter
Left: broccoli mouse, scallop and club, jelly of beef consomme
Right: white asparagus orange hollandaise sauce
Soup of fish
Main dish
Rabit from France, onion confit stuffed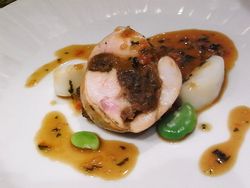 The restaurant Ogino offers selection of wine not so much expensive, mainly made after year 2000 but they are interesting ones. 
It worth waiting for a few months and I hope that I can visit there again near future.
Restaurant name: Ogino
Address: 2-20-9 Ikejiri, Setagaya-ku, Tokyo
Website: http://french-ogino.com