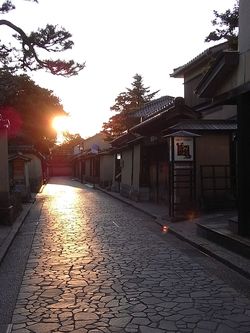 Nagamachi (長町) district, known as a lovely old town and former Samurai residents remain, is situated behind the city's most vital shopping and dining district Korinbo (香林坊). It exists like a hidden small jewery. You will find it by walking down for five minutes from Kanazawa Excel Tokyu Hotel, leaving off Korinbo on the main street of Kanazawa. Enjoy "a time trip" from 21st century to Edo era!
In the district of Naga-machi Buke Yashiki (長町武家屋敷跡, Nagamachi former Samurai houses), some traditional buildings are open to public as museums, tourist attractions, Kutani porcelain (九谷焼) shops or sweets boutiques. Please enjoy walking around and dropping by old houses to dicover Japanese great works in traditional art, handicrafts and foods available in the area.
The walls were made with mud exterior, stones inside and wood plates as its roof on top.
Must-see spot in Nagamachi is Nomura Samurai Family Residence (武家屋敷跡野村家) that was awarded two starts ** by Michelin Guid in 2009. The residence is filled with fantastic art, craft and decorations placed or put as a part of the house' funiture fittings. The garden is also beautifully kept in green and it looks like a profound unique world with creek and pond where some white-and-red colors carps swim elegantly. I do not know exactly how I can describe the place's aesthetic…
Nomura Samurai Family Residence (武家屋敷跡野村家)
Website (though it is under contraction so far): http://www.nomurake.com/
After impressed by the samurai resident, it is time to satisfy your appetite maybe. Several sweets boutiques can be found too in the area. Some of them offer Japanese green tea and/or sweets at a small café space, in some cases, looking at a Japanese garden. Where I visited is a bit off from the main street but it is worth taking more minutes walk to find the machiya café (町屋カフェ) or café in renovated old town house (古民家カフェ).
Entering through two silding doors and proceeding on ston floor, I found Kinkato (金花糖) a space like cozy and warm home-away-home. In the quiet and heated air, anyone will be relived, having homeade sweets made with Japanese traditional ingredients.
On March, when I visited, Hina ningyo (雛人形, girls festival dolls) are displayed.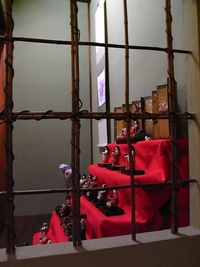 I spotted cute brush drawing on wall just above a cushion.
Crean anmitsu (クリームあんみつ, Japanese parfait with beans paste and vanilla ice cream) is one of Kinkato's most popular item here.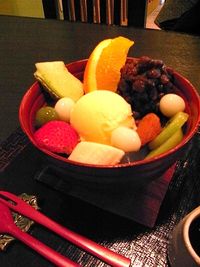 Zenzai (sweet beans soup), Rice cake or homemade ice cream are available by season.
Café name: Kinkato (金花糖)
Opening hour: noon to Yugre-doki "dusk" (夕暮れ時, around sunset time) – what a chic expression of time by the owner!
Address: 3-8-12 Nagamachi, Kanazawa-city, Ishikawa prefecture (check below map)
Website (Japanese only): http://fubako.s150.xrea.com/
*The place is in Kanazawa, Hokuriku region. (not in Tokyo) For general information about Kanazawa and how to get there, please visit below link.
http://aboutfoodinjapan.weblogs.jp/blog/2011/04/about-kanazawa-city-where-food-lovers-should-not-miss-on-travel-in-japan.html
Accommodations close to the sites mentioned on this post
The comments to this entry are closed.
Pinterest