In some towns in central Tokyo, Akasaka (赤坂) will be a good place for non-Japanese travelers to hang out and freely to pop in a restaurant at own choice on the spot.
But today's our recommendation, Kobe Beef Kaiseki 511 is an exception of such on-site search, even though it is only 5 minutes walk both from Akasaka (赤坂) and Akasaka Misuke(赤坂見附) subway stations. The restaurant specialized in "Kobe beef"(神戸牛), as name shown, is located in quiet area where small office buildings and apartments stand along a narrow street, off from the town's main streets. Only those who already know the restaurant can visit it. It is not a place whichi is filled with tourists or strangers.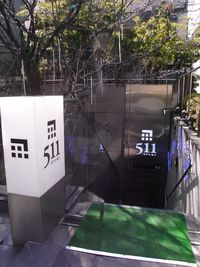 So be ready with a map to visit the restaurant. It is also on undergroung floor. Don't miss the sign on one side of the street like this.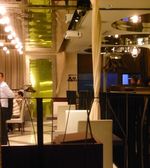 After going through the entrance where we found a certificate of high quality beef provider, we recognized that the restaurant is very modern and bright with lighting and narural colors cloths, unlike a traditional steak house.
Buy the way, we wonder why the restaurant name has a specific number 511. Remind you it is not 551, a famous Butaman (pork bun) shop in Osaka. As per the restaurant's official site, 5 represents "A5" which is the highest quality rank of beef and 11 does the value of beef marbling standard. The restaurant proudly serves A5 rank beef with 11 marbling value.
We guess many of you are now curious about what are served at Kobe Beef Kaiseki 511 (神戸牛懐石511).
If it is affordable for you, it will be good to visit the Kobe Beef restaurant on evening. The dinner courses with Kobe beef cost around Yen 10,000 - 13,000.
But the reason we introduce the restaurant is the price for LUNCH.
Not all lunch set menu includes Kobe been though. We can taste the highest quality beef at less than Yen2000 during lunch time.
For example, what we ordered,
Kobe Beef kalvi (rib) box (カルビ重) is Yen1500 per person.
Several pieces of kalvi BBQ style beef are on top of rice.
Served in a box with salad, miso soup and a tiny plate of dessert.
The thin sliced beef is very soft and flavored with a bit sweet BBQ sauce. The volume and quality are much more than sufficient, considering the price we paid.
Great to taste Kobe beef at such reasonable price!!!
The restaurant offers other attractive choices of lunch set, including Kobe beef hamburger steak, Kobe beef steak and Japanese beef(out of Kobe brand) at less expensive price.
Restaurant name: Kobe Beef Kaiseki 511 (神戸牛懐石511)
Address: B1 floor, Dear Plaza Akasaka 4-3-28 Akasaka, Minato-ku, Tokyo
Official website: http://www.a511.jp
****** Our recommendable accommodation around this restaurant *******
*************************************************************************