Last month, we had been in Paris, the capital of France for a week and tried some restaurants there. As monthly feature of May 2013, we will introduce Japanese related restaurants in Paris, which are truely recommendable for Japanese food lovers.
We found many Japanese restaurants in Paris every around the corner. Even if we say a Japanese restaurant can be found every 10 meters distance on streets, it won't be too exaggerated. Last time we visited Paris 5 years ago and the number of Japanese restaurants in Paris has surprisingly been increased for last several years.
But from our view, it is not so many cases that we found a restaurant providing "authentic" Japanese food there. So we would like to list up recommendations of Japanese restaurants in Paris based on our tasting and research.
The first one, Aki, is Okonomiyaki restaurant located on Rue Sainte Anne, Opera district central Paris. The Sainte Anne street is known among locals (including Japanese based in the city) as the area where a lot of Japanese restaurants and shops gather. Some of them run their business over decades there. We have the most chance to have real Japanese food in the area. Aki is one of them. 
When we arrived at the restaurant a bit later than 14h on weekend afternoon, the Okomoniyaki restaurant was still almost full and we had to wait until a waiter cleared a table for us. Sometimes we had to make a queue to have lunch or dinner there. It is quite popular restaurant.
For those who don't know what is Okomiyaki, we place a link to our older post explaining the dish.
Okonomiyaki(お好み焼き) -Chibo(千房)
http://aboutfoodinjapan.weblogs.jp/blog/2008/11/okonomiyakichib.html
In short, it is salty pancake made with flour, shreded cabbage and main ingredient pork or shrimps etc. The casual plate is a local specialty of Osaka (大阪), the second largest city of Japan. 
On the basement floor of Aki, over a counter table, we can find the restaurant's chef cooking Okonomiyaki or Yakisoba (Japanese fried noodle) another popular menu there. 
This is it, Okonomiyaki Pork!! served by an iron plate.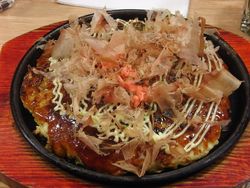 When we just see this picture, we never imagine it is taken in Paris.
Pieces of Katsuobushi (dried bonite) topped on the pancake
are waved by steam from the heated plate.
Not only the look, the taste is also authentic Japanese. For Japanese living in Paris, the plate must be something cannot be missed and must remind them the home country, Japan.
We are also impressed with this green tea.
Guess it is made at the restaurant,
not ready-made canned or bottled drink.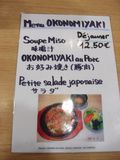 It is also very good that the prices at Aki are quite reasonable a bit over euro10 for lunch and also dinner almost similar. 
 If you would, the restaurant also provides other casual but real Japanese food such as Japanese style curry, katsudon (deep fried pork with rice) and small Izakaya style dishes well matched with a glass of beer. 
We also have to mention that just in front of the Okonomiyaki restaurant, the same owner runs a bakery where we can also find bread in Japanese flavor. Drop by it and get a few pieces for snack or breakfast next morning.
If you have a chance to visit Paris but not Japan, try the Okonomiyaki plate to feel a piece of Japan. Just be ready to go the restaurant out of peak time or to make a queue.
Restaurant name: Aki 
Address: 11 bis, rue Sainte Anne, 75001 PARIS FRANCE
View Larger Map