Some of you may be already familiar with the Japanese word "bento".
Bento represents "box meal" in Japanese, such as those we can find at a convenience store, what a mother makes as lunch for kids or what we prepare for a party outside.

For some people, bento box might be an item on the list to get in Japan. Or you can put it just now!
Today we feature a shop which is the best suitable for such people.
Japanese style lunch box are sold at department stores, variety goods stores etc across Japan.
But there was no shop specialized in just bento box before Bento&co came.

Bento&co is originally an online shop offering various bento box and related items for shipping abroad.
The company, run by a French man, now has an offline unit in central Kyoto.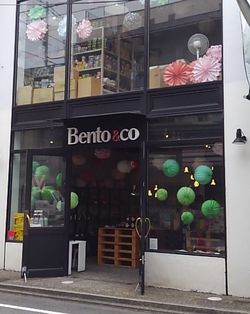 It is located in the area between Kawaramachi and Kyoto Shiyakushomae(Kyoto City Hall) on Rokkaku dori(street), not far from Nishiki Ichiba where we introduced on the previous post.

It looks like this. Bento&co store is on the ground floor and the upper floor is their office.


In addition to wide choices of bento box and related goods, it offers some original-designed items as well.


For those who are not planning to visit Kyoto soon, don't worry! Even anywhere you are based, Bento&co has "online" shop as well.
The online shop is available in 3 languages, English, French and Japanese.
http://en.bentoandco.com/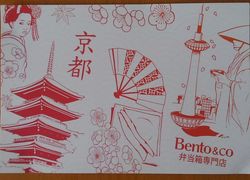 post card I got at Bento&co
Nice alrenative of a shop card


Check also our other posts mentioned about "bento" found in Japan as well as Paris!!

Makunouchi Bento (幕の内弁当) - at the National Theatre (国立劇場)

Ekiben(駅弁 station lunch box)

Bento(弁当)- launched for G8 Summit celebration
 
Bento arranged in Paris style, Nanashi - Paris


Shop name: Bento&co
Address: 117 Yaoya-cho, Rokkaku Dori FuyachoHigashi Iru, Nakagyo-ku, Kyoto
Official website link for the store in Kyoto: http://en.bentoandco.com/pages/bento-co-shop-in-kyoto