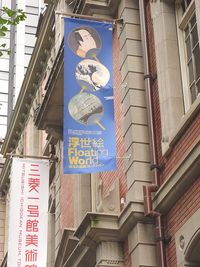 Surely you know the name of the most famous Ukiyoe woodprint artist, Katsushika Hokusai (葛飾北斎). During this summer, at Mitsubishi Ichigokan Museum(三菱一号館美術館) in Tokyo, one of the biggest Ukiyoe art exhibition "Floating World" has been taken place. Especially until 11th August 2013, under the theme "Tourism" over 180 Ukiyoe and other art works are presented. Katsushika Hokusai and Utagawa Hiroshige (歌川広重) are the two major artists for the collection, of course. One of the greatest Ukiyoe art collector, Mr. Saito has contributed to the exhibition with almost all of these works brought from his private collection and his private museum in Kawasaki.
One of the largest features of the second period is the seriese of "36 views of Mt. Fuji"(冨嶽三十六景) by Katsushika Hokusai as well as "53 stations of Tokaido"(東海道五十三次) by Utagawa Hiroshige. With these great collections, we could find wonderful scenes of Mt. Fuji which will be registered as UNESCO World Culture Heritage soon.
If you are interested in Ukiyoe art and have a plan to visit Tokyo this summer, don't miss the chance!! After the second period of the Ukiyone exhibition "Tourism", it will be followed by the third period with the theme "From Edo to Tokyo" taken palce between 13 August to 8 September 2013.
Celebrating the great exhibition, Cafe 1894 attached to the museum offers interesting drink called "Mt. Fuji Float".
This is it!! Mt. Fuji Float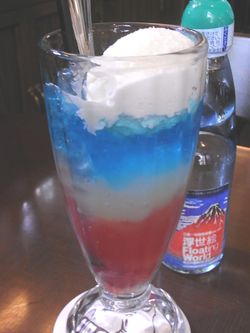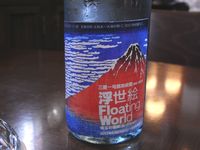 Inspired from the work "Red Fuji" by Hokusai
It has 3 layers of jelly and
we can enjoy the drink by adding "ramune"(ラムネ) soda
with the Red Fuji label into the glass.
In addition, the cafe provides special lunch menu
for the Ukiyoe exhibition as following.

Starter - 5 assorted starters 
with some vegetables harvested in Edo or Tokyo.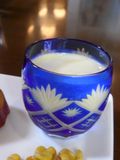 The cup for cold corn soup is also "made in Tokyo"
with Edo-kiriko (江戸切子) glass cutting technique.
It makes us feeling cool from eyes in hot summer.
Duck on rice, as main dish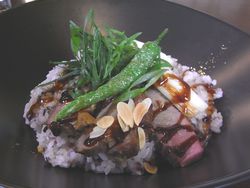 Another choice of main dish is "conger eel" (穴子, anago).
You might notice unique decoration of the cafe called "Cafe 1894". The building exterior and cafe interior are modeled from the former building which had been the place in Meiji era since year 1894. Especially the cafe decoration is replication from the bank office in that era.
We guess at the place we have the lunch..., can you imagine?! 100 years ago, wads of money must have been piled up there!! How fantastic it is if we could imagine that!!
Related posts: Another spots related Ukiyoe
Illy cafe with Ukiyoe (浮世絵), Nihombashi Tokyo
http://aboutfoodinjapan.weblogs.jp/blog/2013/01/illy-cafe-with-ukiyoe-nihombashi-tokyo.html
Hokusai (北斎), Japanese restaurant in Tokyo Disneyland
http://aboutfoodinjapan.weblogs.jp/blog/2013/03/hokusai-japanese-restaurant-in-tokyo-disneyland.html
Cafe name: Cafe 1894, Mitsubishi Ichigokan Museum (三菱一号館美術館)
Address: 2-6-2 Marunouchi, Chiyoda-ku, Tokyo
Mitsubishi Ichigokan Museum: http://mimt.jp
Mitsubishi Ichigokan Museum "Floating World" exhibition official:
 http://mimt.jp/ukiyoe/
Cafe official site: http://www.mimt.jp/english/cafe1894/
View Larger Map