Weekend afternoon in Ginza area, it is not easy to find a cozy cafe without waiting for a half hour or so. Tables at nice cafe are always occupied with people. Space is rarely available when we need to take a break. 
So this cafe will be an option in such case. In spite of the very-central location and really cozy space, it is not so crowded in many cases. 
cafe & books bibliotheque is accommodated in LUMINE Yurakucho, one of the largest shopping complex in the area, just next to Ginza. It is 30 second from JR Yurakucho station.
From the shopping corridor on the 3rd floor, it could not be identified as a cafe. Some books and goods are displayed and piled up in front ot the unit. Over the book shelf, the cafe exists.
Even in the cafe space, nice beautiful books are displayed. 
Both lower arm chairs or high table for meal or work are available.


Whether it is for lunch, tea break or dinner,
the cafe provides some attractive options at relatively reasonable cost.
"Monthly" different pancake with anglaise sauce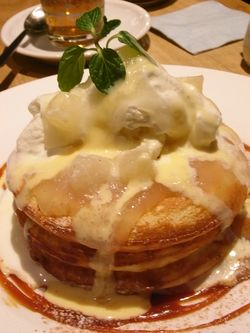 Very attractive looking!!
Can't stop ordering when we find someone having it...
Moroccan mint tea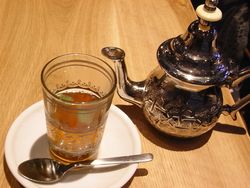 Served with glass cup and by a silver pot.
Rare to find this pair in Japan!
Lasagna with ricotta cheese for dinner time,
as an example
Alhtough the cafe has less Japanese flavor, it will be a good option to take a tea break or to have Western taste for dinner or lunch at reasonable price in Ginza.
Enjoy relaxing break time in the cosmopolitan cafe!!
Cafe name:  cafe & books bibliotheque
Address: 3rd floor LUMINE Yurakucho 1, 2-5-1 Yurakucho, Chiyoda-ku, Tokyo
Official homepage: http://www.cporganizing.com/bibliotheque/tokyo/concept