Following our post introducing a tonkatsu (deep fried pork cutlet, wrapped by bread crumbs) restaurant two years ago, we found another recommendable unit serving the menu in Shibuya (渋谷). When we refer to Shibuya, many may be reminded by the diagonal crossing filled with a lot of people. Three months ago, the newest shopping complex Hikarie (ヒカリエ) opened in Shibuya,attracting local both fashionistas and foodies.
Today's our feature a tonkatsu restaurant is geographically close to Hikarie but it may be phycologically far from such the latest spots.
Katsukichi (かつ吉) in Shibuya is about 5 minutes walk from JR Shibuya staion and only a few minutes from Hikarie. It is just a few blocks away from Shibuya Police station along Meiji street.
Please do not miss the Japanese style gate on the ground floor of a modern building.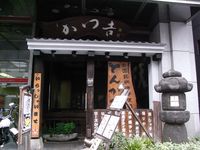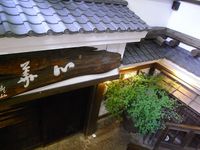 The traditional gate is rare to be found in central part of Tokyo.
As long as you can find it, you will feel something to raise your expectation. 
Once you enter into the restaurant on the basement floor, at its cozy space decorated with thick wooden boards and antique tablewares, you will never be reminded that you are in the bustring modern Shibuya town.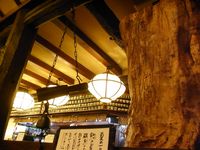 Tables on the main space are enough big to be shared by 4 people and be relaxed.
The restaurant also offers Japanese style seating with lower tables for larger group. 
After ordering our meal, 3 pots containing each different kinds of pickles were provided.
At tonkatsu restaurants, shreded cabbage is a "must" side dish served with deep-fried pork.
Katsukichi is espceially generous and serves shreded cabbage in a big bowl,
while we are waiting for tonkatsu.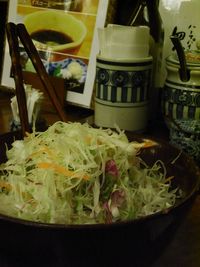 Don't worry, as the vegetable dish won't occupay space in your stomach.
Tonkatsu or it is simply called "katsu". The word "katsu"comes from Western menu "cutlet" and "ton" of tonkatsu represents pork in Japanese.
What I ordered for my lunch was "katsu-don" (カツ丼, pork cutlet on rice bowl) which has been my favourite menu since youth age. It brings us fancy harmony of pork, bread crumb skin of it, broken egg seasoned with Japanese stock soup or soy sauce etc and rice. 
There could be many choices not only pork cutlet but also steak, hamburg, pork sautee on the menu. But there is no reason to avoid standard "tonkatsu" dish at tonkatsu restaurant. Some including Katsukichi offer 2 types of pork meat, "hire" (or fillet, ひれ, pork tenderloin) and "lose" (ロース, pork loin). And you could have an option like above, Katsudon (pork cutlet with egg on top of rice) 
Usually tonkatsu is served as a set menu with rice and miso soup. For dinner time, some restaurants may serve the menu as a single plate and it will be a good match with beer or other alcohol drink.
After (or before) you enjoy tonkatsu at Katsukichi, don't forget to drop by the bathroom. On the way to it, you will discover nice pieces of Japanese antique, such as old sign boards etc.
Restaurant name: Katsukichi (かつ吉)
Address: B1 floor    , KDC building, 3-9-10 Shibuya, Shibuya-ku, Tokyo
Official website: http://www.bodaijyu.co.jp/restaurant/shibuya/ 
View Larger Map