On September 2012, we have featured interesting "breakfast" (朝食, choshoku). This is the 3rd and last post of the monthly featuring. So we have picked up typical Japanese breakfast.
You could have a chance to take Japanese breakfast at your accommodation, especially if you stay at ryokan, Japanese traditional inn in countryside of Japan. Otherwise, even in Tokyo and other urban cities, Japanese breakfast set may be offered at Japanese restaurants in hotels.
You won't have a chance to take it in your accommodation? or if you would like to try it at more inexpensive cost? Then we introduce Japanese breakfast set at a casual chain restaurant, Sukiya (すき家).
Here it is!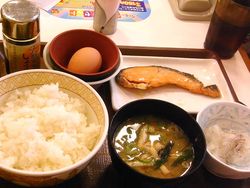 Breakfast set at Sukiya (すき家)
Sukiya, whose main product is "Gyudon" (beef & rice bowl), is one of the largest restaurant chain company in Japan. Many of their units open from early morning (or for 24hours) and offer breakfast set in the morning. The breakfast set price is reasonable and ranged around Yen 200 to Yen 400.
Let's see what is included in the typical Japanese breakfast.
For Sake Choshoku (鮭朝食, salmon breakfast)
with rice in regular size at Yen 360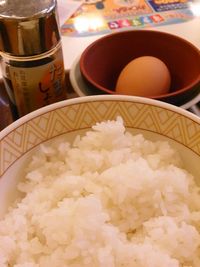 Cooked white rice is the most important for Japanese breakfast.
Sukiya offers 3 different sizes of rice in bowl
with slightly different prices depending on the size.
As topping of rice, Sukiya also provides raw egg
with soy sauce "specialized for tamagokake-gohan"(raw egg with rice).
We observed here how much the restaurant chain puts importance
on its breakfast menu, not only their beef bow.
Raw egg might be unfamiliar ingredient for people outside Japan but for Japanese, it is a typical way for locals to have it with rice in the morning. If it is not easy to take rice and raw egg with chopsticks, please do not hesitate to use a spoon on your table.
To be paired with rice for Japanese breakast is
miso soup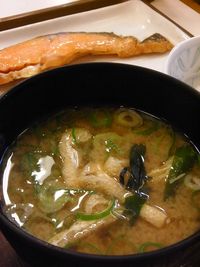 Three kinds of ingredients in the miso soup;
"Abura-age" (deep-fried bean curd),
"wakame" (dried seaweed) and
"negi" (Japanese leek)
enough good quality, considering the price
Side dishes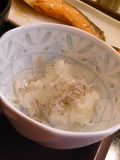 A slice of grilled salmon is popular side dish.
Sukiya also provides a small bowl of
grazed "daikon" radish with "shirasu" (dried whitebait).
Another typical side dish that can be found at other restaurants is "tsukemono" or "oshinko" (Japanese vegetable pickles), which is often taken with rice.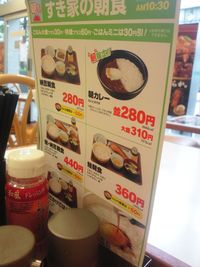 Breakfast menu at Sukiya shows their offer with photos and price clearly. That will help you with finding what you want. Apart from dishes introduced above, "natto" (fermented soy beans) with a bit strong flavour is a major line-up.
At Sukiya restaurants, unlike Yoshinoya and Matsuya both are competitors for "Gyudon" beef bowl, some table seats are offered in addition to a counter table that is likely to be for sole-diners. So it will be more relaxed place than ones by its rival especially for a couple and a small group of three or more people.

Restaurant name: Sukiya (すき家)
Major locations in central Tokyo:
Shinjuku NS Building
Address: Shinjuku NS Building 1st floor, 2-4-1 Nishi-Shinjuku, Shinjuku-ku
Ginza 7 chome
Address: 7-14-1 Ginza, Chuo-ku
Shibuya Inokashira St.
Address: 31-4 Udagawa-cho, Shibuya-ku
Roppongi 5 chome
Address: 5-9-22 Roppongi, Minato-ku
****************** Find accommodation in Japan ***************
OSAKA / NARA / SAPPORO / TAKAYAMA / TOKYO/YUFUIN
YAKUSHIMA / NOZAWA ONSEN / NISEKO / NIKKO /

HIROSHIMA / MATSUMOTO / KYOTO / KANAZAWA / ISHIGAKI ISLAND /