Did you know "Kamaboko"(かまぼこ)? It's Japanese traditional steamed fish cake. Even though you haven't know the name Kamaboko, you may have it as an ingredient or as a part of side dish.
Kamaboko usually has semicircle shape and in many cases it is served after sliced into thin pieces. Ordinary Kamaboko is in white color and some has pink color outer. Japanese people express celebration feeling with stripe pattern of white and pink made with sliced Kamaboko pieces. Some local versions exist with different shapes (such as ones looked like a leaf, fish) and colors.
Kamaboko is made from white meat of fish. After the fish meat is mushed, it is steamed in a mold. No record exists to know where and when Kamaboko was invented but in Japan at least it has 900 years history.
Suzuhiro (鈴廣) is one of major Kamaboko producers based in Odawara (小田原, next to Hakone). In 2015, it celebrates 150th anniversary of foundation. Today we are going to introduce interesting facilities to know more about Kamaboko in Suzuhiro's home-ground.
Kamaboko no Sato (かまぼこの里, the town of Kamaboko) is just a just a few minutes walk from Kazamatsuri(風祭) station on Hakone Tozan Train. It is in-between 2 major stations on Hakone Tozan Train, Odawara(小田原) which is accessible by Shinkansen from Tokyo and Hakone Umoto(箱根湯本) which is the gateway of Hakone sightseeing. So if you are interested in the fish processed food, it will be good to drop by the town of Kamaboko on the way to/from day trip of Hakone which is known for the viewspot of Mt. Fuji.
Kamaboko no Sato has some facilities to enjoy Kamaboko and Suzuhiro's other products in different ways from the flagship store, fish cake making experience, a restaurant and food market. Unfortunately basically all facility is provided with information in Japanese only but we introduce some facilities where international tourists can enjoy.
*Suzuhiro flagship store
First, at the flagship store in a Japanese traditional style building, make sure what looks like Kamaboko and how it is sold.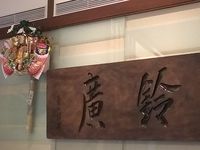 The brand name on the signboard is written from right to left.
The old writing style reminds us the long history of the Kamaboko producer.

We can find many variation of Kamaboko
that are not available at supermarkets in town.

*Kamaboko Museum
Although the explanation is in Japanese only, you will know how it is made from visual information such as pictures and actual producing activities.
At the center of the facility, the museum offers Kamaboko making experience program to tourists. It is visible for those who don't participate in the program.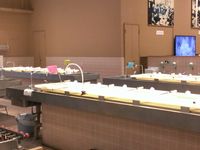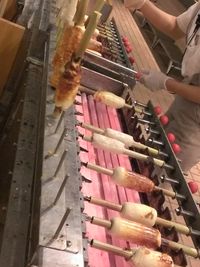 This is "Chikuwa"(ちくわ) another type of fish cake.
Chikuwa has long straw like shape with a hole in center.
It is cooked by the museum staff after each participant made the shape of own Chikuwa.
*Buffet Restaurant
Making the most use of buffet restaurant, simply taste Kamaboko and other fish-made processed foods in different ways. You may discover new ways to enjoy those products. The Kamaboko producer knows the most ways to enjoy them.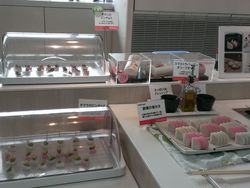 Main product Kamaboko with
plum sauce, extra virgin olive oil or sesame & mustard sauce, as the simplest ways.
Otherwise served as "pinchos" with vegetable or mushroom.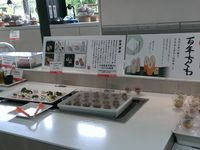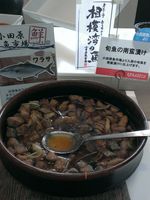 Not only fish cake, local and seasonal fish menu offered.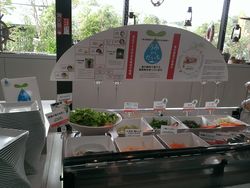 Vegetable is not fish?! Yes!
but those fresh vegetable is grown with fertilizer "made from" fish born and skin left after Kamaboko making process.

Finally plates are filled mostly with fish-related food.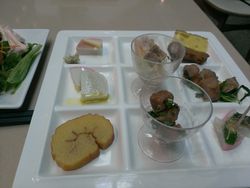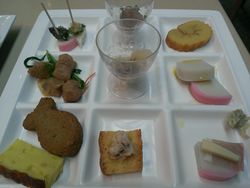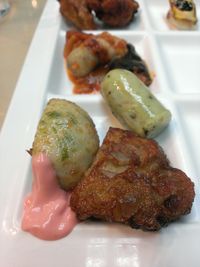 Don't miss also deep-fried fish cake, served just after cooked.


Now you will know variety of ways to enjoy Kamaboko, traditional fish cake in Japan!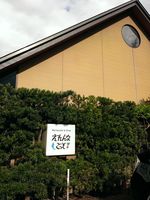 Restaurant' name is "Erenna Gosso"(えれんなごっそ). Find this building and log on the site.
Lunch buffet starts from 11a.m. and is offered until 14:00(Last order time)
Price: Yen 1850 per person
Facility name: Suzuhiro Kamaboko no Sato
                       (鈴廣 かまぼこの里)
Restaurant name: Erenna Gosso
Address: 245 Kazamatsuri, Odawara-city, Kanagawa
Nearest station: Kazamatsuri (風祭) on Hakone Tozan Train
                          The site is directly connected from the station.
Official website (Japanese only): http://www.kamaboko.com/sato/shisetsu/